Live chat, video conferencing, and project management tools have enhanced the way small businesses operate and succeed. Likewise, commercial email providers have long been essential for companies of all sizes—and in all business sectors, from retail to restaurants, and personal services to healthcare.
When you choose the best email address service for your business, you'll gain key benefits like:
Credibility as a "genuine" business
Effective communication with clients, colleagues and partners
A reliable way to send email
But different types of companies have different needs when it comes to email. So, there's no single answer to, "What are the best email providers?" In fact, many factors come into play when choosing an effective—and cost-effective—system.
Wondering what is the best email account for business? Think about what's most important for your business. Consider security, speed, ease of use, and other value-added capabilities. We offer these insights to help you choose the best email service for your needs. We've also looked into cost, account storage size, and functionality, along with related services. As you read, consider the following questions about what would make the best email provider for your business:
Can this system track email receipts?
Can you archive and sort messages?
Does it include automatic backup and recovery of messages?
Can you encrypt sensitive or confidential communications?
Does it include grammar and spell-checking systems?
Keep in mind that corporate email service providers continually update and upgrade their services. So, double-check that your chosen provider has what you need before making a final decision on the best email provider for your business. Finally, if you're planning to use email for marketing, read our related article to avoid email marketing mistakes.
Finding the Best Email Service for Your Business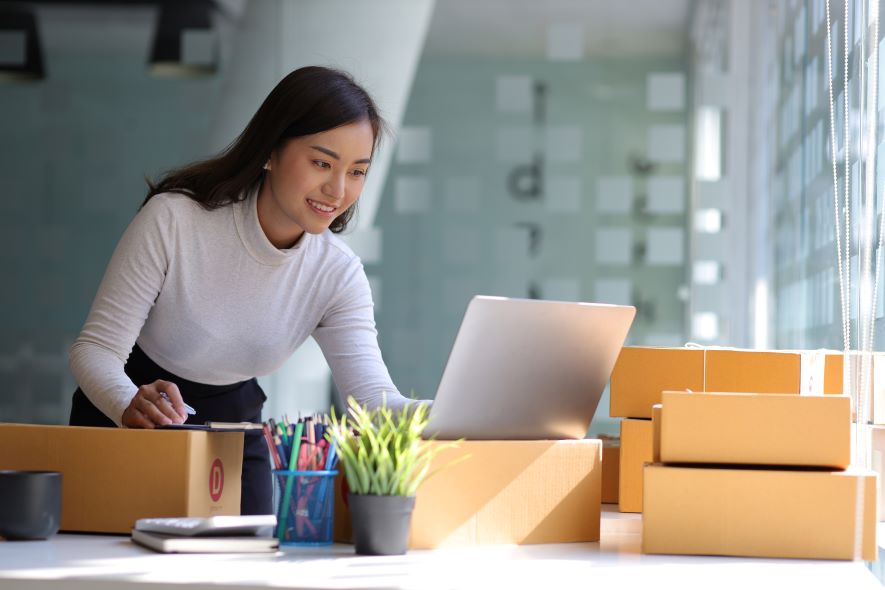 What's the best email for businesses? There are dozens of email providers for small businesses. Each commercial email provider has strengths and weaknesses depending upon your needs. So, before you explore specific email services, consider whether any of these key features may be useful:
Custom domain support. Do you want to use the email provider's generic domain (i.e., yourname@gmail.com)? Or would you rather tailor your email addresses to your company (yourname@yourfirm.com)?
Security features. These include encryption, built-in virus protection and data protection. Automatic attachment scanning, for instance, can help keep your servers safe from hackers.
Mailbox storage capacity. How much space will you need for each email user? What happens if you need to expand your storage? Can email conversations be archived and easily retrieved if needed?
Customer service and support. Would you like to contact representatives 24/7? Does it matter to you where customer service is based?
While selecting the best email service for business, decide which of these factors are most important to you. For instance, if you have government contracts or are subject to HIPAA, you will likely need significant security measures included in your email systems. Or, if your company is a design or engineering firm that often sends large documents, you may want extensive storage.
What Are the Best Email Providers?
The providers listed below are our top recommendations for companies with various needs. Whether you need free business email services or email hosting for startups or you can afford paid email providers—even premium email providers—we've got you covered.
Best Value Business Email Provider: Google Workspace
When it comes to affordable business email, the best "all-around" commercial email provider to consider is Google Workspace (formerly known as G Suite). Google's Gmail service has become a household name for good reason. It's dependable and trustworthy. It also offers seamless integration with other Google business tools, such as Google Docs, Google Sheets and Google Calendar. Topping it off, Google Workspace is affordable, with monthly plans starting from $6 per user.
Google Workspace Features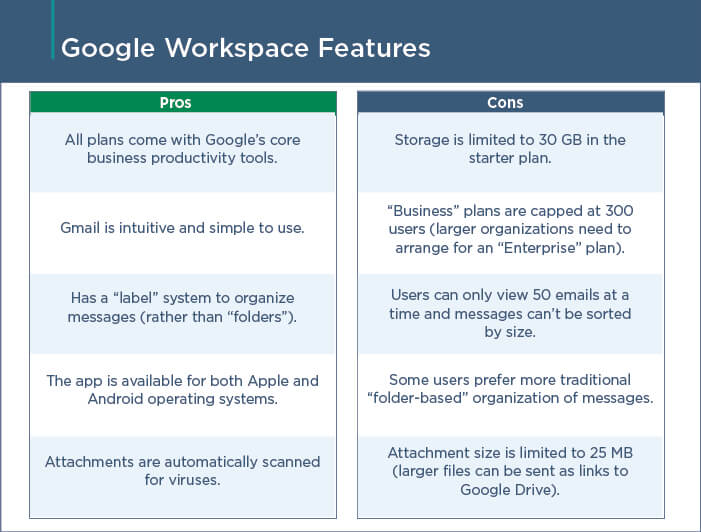 Google Workspace Pricing
Google Workspace pricing is affordable. A "business starter" plan is just $6 per month per user. That includes not just Gmail but all the other Google Workspace business tools. Plus, each user gets 30 GB of cloud storage and can host video meetings with up to 100 participants. Google Workspace pricing for higher-end plans goes up to $18 monthly per user. Those plans add storage capacity (up to 5 TB) and allow for higher numbers of video meeting participants along with other capabilities.
Best Free Business Email Provider: Zoho Mail
If you need email hosting for startups, check out Zoho Mail, our choice for free business email. While Zoho has paid options, their "Forever Free Plan" gives small businesses up to five free email accounts. If you wish, you can upgrade to Zoho plans that start for as little as $1 per month.
Zoho Mail "Forever Free Plan" Features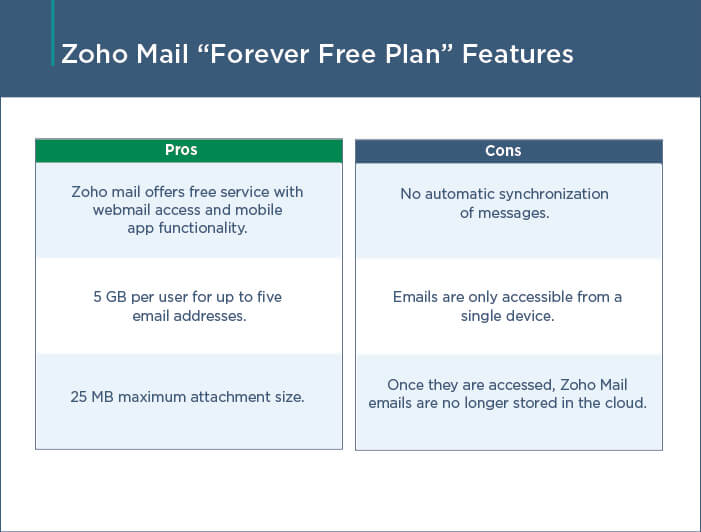 Zoho Mail Pricing
Zoho Mail's "Forever Free Plan" does have several limitations which may not make it right for many small businesses. Still, Zoho Mail pricing for upgraded plans is quite affordable. For instance, their Mail Lite plan is $1 a month per user. It allows for attachments up to 250 MB and includes cloud-based storage, an appointment calendar system and the ability to access email across multiple devices. A Mail Premium plan at $4 a month per user boosts storage to 50 GB and attachment size to 1GB.
Best Business Email Provider for Microsoft Integration: Microsoft 365 (formerly known as Office 365)
If you're already familiar with Microsoft Office products, then using Microsoft 365 to handle your email is a no-brainer. Much like Google Workspace, this Microsoft Office suite has an array of business tools for word processing, spreadsheets, presentations and meeting collaboration, with enormous cloud storage and reasonable pricing. For example, the basic Microsoft 365 plan offers cloud-based versions of Microsoft Word, Excel and PowerPoint, along with access to Microsoft Teams, for $5 a month per user. More fully-featured (and higher-cost) plans offer additional software tools.
Microsoft 365 Features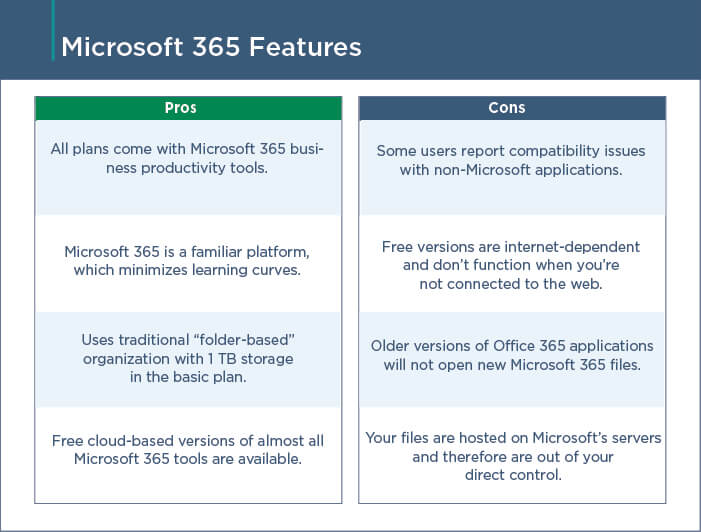 Microsoft 365 Pricing
Microsoft is currently offering a free one-month trial for its 365 Business Basic plan, which then converts to a $5 monthly subscription. This plan includes Business Email with a 50GB mailbox capacity, along with calendar functions and well-known business productivity tools. Other Microsoft 365 pricing plans range from $12.50 to $20 monthly per user. Each builds in additional features, including collaboration tools that support remote workers, mobile device management, security capabilities and safeguards that offer protection from cyber-based threats.
Best Month-to-Month Business Email Provider: Dreamhost
While many paid email providers quote prices on a monthly basis, they typically require a one-year commitment. Dreamhost, however, offers a no-strings-attached monthly rate of $1.99 per mailbox. Of course, you can save a bit by choosing their annual plan, but you don't have to. Dreamhost is also compatible with Gmail and Outlook mail platforms.
Dreamhost Features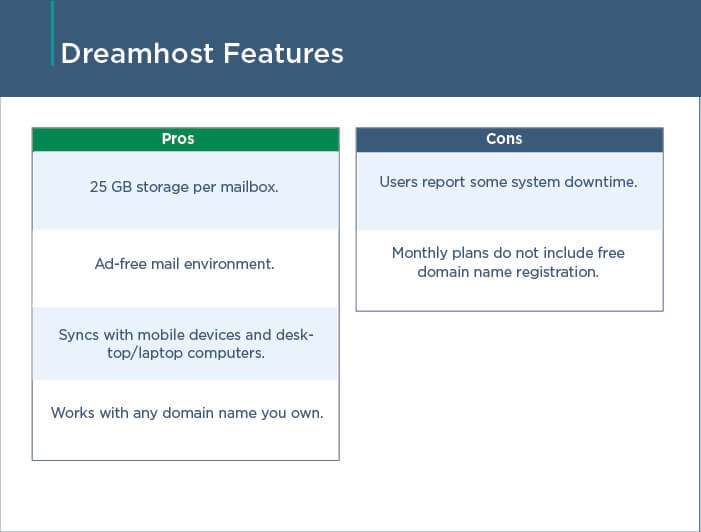 Dreamhost Pricing
Dreamhost pricing is simple and straightforward: $1.99 monthly per 25 GB mailbox, or $1.67 monthly per mailbox with an annual contract. You can add a website for $2.59 per month with Dreamhost's basic hosting plan, which includes a free domain name registration.
Email Hosting Considerations
Whichever provider you choose for your business email, keep in mind that service offerings and prices are continually changing. What we've listed here might not remain exactly the same by the time you're shopping for business email providers. So, we recommend that you verify the cost, features and benefits of any email service before you sign on the dotted line.
Finally, all the providers we've recommended use cloud-based servers, but you might prefer to host email on your own on-site servers. Doing so provides an added degree of security and control, but it can also cost more up-front for equipment. Plus, you'll need technical know-how and IT staffing, not to mention long-term maintenance and upkeep costs. Of course, technology is constantly evolving. The investment you make in business mail hosting or a corporate email server this year could easily be eclipsed by advances next year. Before you decide to host your own email servers, consider whether there may be downstream ramifications that could negatively affect your operation.
Along those same lines, remember that unpredictable circumstances can crop up in any business situation. That's why it can pay to have backup. Here at The Hartford, we've got your back for any number of incidents that could put your livelihood at risk. Our small business insurance experts can guide you when choosing policies to protect you and those you care about. After you've chosen the best business email service, we hope you'll give us a chance to do just that.
Disclaimer: Double check all information because these providers can change their plans, services and prices any time.
Next Steps: Want to learn more? Sign up for the Small Biz Ahead newsletter to receive a weekly roundup of the latest tools, trends, and resources.