Business security systems have become essential to small businesses of all types. The number of choices available can make choosing the best system a challenge, whether you operate a restaurant, office, retail store, or even a home business. Our goal is to help make your choice easier. By comparing the best small business security systems on the market today, we hope to simplify your search.
The Importance of Having a Business Security System
Last year, a Virginia business suffered three break-ins in just three months. It's safe to say that the owners were grateful for their business security system. In fact, they shared images captured by their video surveillance security cameras with the police. The local TV news even broadcast the images in an effort to help law enforcement solve the crime. While your small business might not have had a spate of larcenies like this one, even a single incident can be devastating.
Business alarm systems, video surveillance cameras, and security measures like smart locks and access control don't just help catch criminals. They can also prevent crime with sirens or bells at the start of a break-in. Below are some recommendations for good security systems.
Keep in mind, however, that not all criminals steal in person. Cybercrime is also a concern for small business owners. So, consider which security steps you can take to protect your business from this growing threat, too.
Selecting the Best Small Business Security Systems
As you shop for security solutions, focus on the factors that make your business most vulnerable. This will help you choose the right commercial security system for your business. Let's say you don't have clear lines of sight in your parking lot. Look for a security solution that minimizes camera blind spots. But if your business is located close to others that are open 24/7, you may not need a professionally monitored system. In that case, a loud siren that alerts neighbors could suffice to discourage a potential break-in. Tailor your choice of small business security system to your circumstances. In that light, let's compare security systems to see which could best fulfill your needs.
Best All-Around Business Security System: SimpliSafe
The founders designed this security solution after their friends went through a break-in. They wanted to make it easy for renters to install it without damaging their walls. Today, SimpliSafe offers motion sensors, panic buttons, and an affordable monitoring plan. Business owners can customize it in a variety of ways. They can add water leak detectors, motion-sensing cameras, fire alarms, glass break sensors, and more. This customization, combined with its ease of installation, makes it our top choice for home security and small businesses.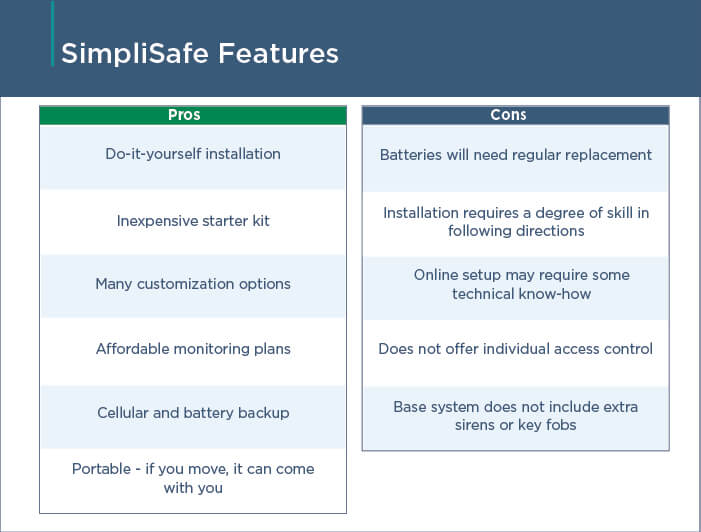 SimpliSafe Contract Terms
While not listed above, SimpliSafe's contract is a genuine benefit. There isn't one. You buy the system and install it yourself. If you want your business to be professionally monitored, you can sign up for a monitoring plan. The basic plan includes 24/7 monitoring. If a break-in is detected, U.S.-based call centers will contact law enforcement. The upgraded monitoring plan allows you to view the camera footage and both arm and disarm your system using a smartphone app or your smart speaker, among other benefits.
SimpliSafe Pricing
SimpliSafe offers systems for as little as $229. Monitoring plans start at $14.99 per month. Once again, no contract is required, so you can cancel your monitoring plan at any time without penalty.
Best Comprehensive Security System: ADT
If you'd rather not install your own system, you might like ADT. This 145-year-old security company makes high-quality systems with a variety of equipment and packages. ADT offers a soup-to-nuts solution that begins with a free security analysis. It also tailors to your specific business needs whether you're a retailer, healthcare provider, manufacturer, restaurant, or just about any other type of company. ADT even offers monitoring plans that can include access control. This means you can control which employees can access specific areas.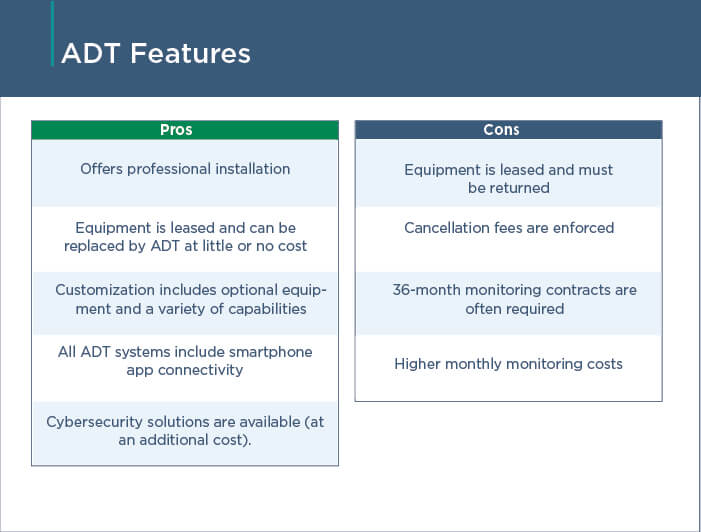 ADT Contract Terms
ADT's business security plans require you to commit for at least 36 months. Early termination, professional installation, and activation fees apply. But, ADT offers discounts and specials regularly.
ADT Pricing
ADT pricing can vary due to its customizability. Its lowest-priced small business monitoring plan is $49.99 a month. System installations can range from a few hundred dollars to thousands. Its consultants evaluate your particular needs to determine your pricing and can offer flexible payment plans.
Best Budget Security System: Wyze
The Wyze system is one of the most affordable out there. When customers sign up for a year of monitoring services at $4.99 per month (paid annually), they get the Wyze starter package for free. Basic hardware — a keypad, two door/window entry sensors, a motion detector and a hub with built-in siren — is included, and installation is a simple DIY process. While it positions itself as a home security system, Wyze's equipment can be used in a business setting. Keep in mind that Wyze is a start-up, so its track record is limited, and sometimes shipping dates can move. Also, since this company's system is new, its customer service record is yet to be established.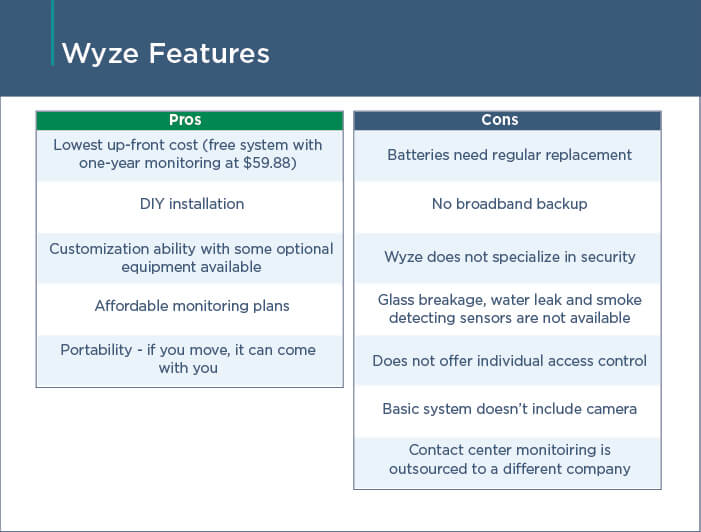 If your internet fails, the system becomes a local-only alarm.
Wyze Contract Terms
To get the free equipment, you have to commit to an annual plan. Other than that, signing up for a Wyze system seems to be straightforward and simple.
Wyze Pricing
Wyze pricing starts at $4.99 per month. To receive the free system, you must agree to a one-year contract totaling $59.88. If you choose to add cameras and other options, you'll increase that cost. For instance, a basic camera is $24. Adding more than one video surveillance camera to the Wyze system would require an additional subscription to their Cam Plus feature. This costs $1.25 per month for each added camera (billed annually).
Best Video Surveillance System: Nest
Nest is Google's camera-based monitoring system. Its indoor and outdoor cameras are triggered by motion detectors. This makes Nest a great option for businesses that need all-weather surveillance. With Nest Aware, you can use a mobile app to view and store video events captured by your cameras in the cloud for up to 60 days. You can also link your Nest system to Brinks Home Security professional monitoring service.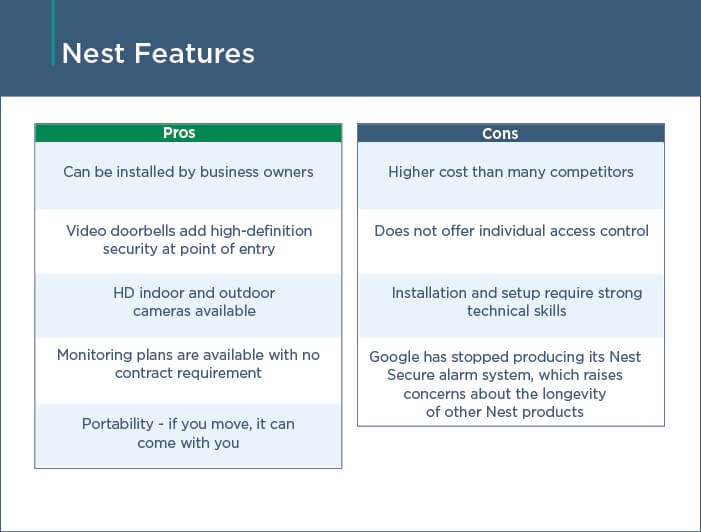 Professional help is available for an added fee.
Nest Contract Terms
The Brinks Security monitoring plan for Nest is available for $29.99 a month ($19.99/month if you sign a three-year contract). If you'd rather not pay for professional monitoring, you can do it yourself by having the cameras send push notifications to your smartphone whenever motion is detected. If that happens, and you see an unwelcome intruder at your business, you can make the call to law enforcement yourself. Of course, that presumes you're by your phone whenever the burglary is taking place!
Nest Pricing
Nest currently offers two starter equipment packages — a front-door setup that includes a video doorbell and Nest hub for $299, and an outdoor package with a video doorbell, outdoor camera, and Nest Mini for $427. If needed, you can add a variety of indoor and outdoor cameras with prices ranging from $129-$399.
Next Steps: Want to learn more? Sign up for the Small Biz Ahead newsletter to receive a weekly roundup of the latest tools, trends, and resources.
Security Systems Are Just One Way to Protect Your Business
Regardless of the security solution you choose, no system is perfect. And no one can eliminate every possible risk to their company's inventory, infrastructure, or even business records and customer data (remember – hackers are always out there). That's why The Hartford stands behind our customers with solid, dependable insurance policies. We offer coverage that gives our customers peace of mind 24/7/365. We also offer premium discounts to businesses that install commercial security systems. For information on our plans, please visit our small business insurance page.