Your business logo is the foundation of your brand identity and helps you leave a lasting first impression on your customers. In fact, about 75% of people recognize a brand just by its logo. This means, your company's logo design is a key identifier of your brand and should be thought of as a reflection of your brand. Your business logo can also communicate your brand's personality too. By using distinct colors, fonts and design elements you can create a recognizable business logo that will stick in your customers minds and make your business stand out.

Consider some of the world's most recognizable brands like McDonalds, Coca-Cola and Apple. Each of these brand's have unique logos that reflect their brand's personality by using unique colors and styles that are easy to recall. Apple's logo is a modern and minimal design featuring their signature symbol. Their logo reflects their sleek and creative technology. It also reflects their brand values. You'll notice that this brand messaging is carried throughout their entire brand experience from their stores to their packaging.
Whether you're looking to create your own business logo for free or tap into the expertise of a professional, having a great business logo can help take your business to the next level. Here's what you need to know and where you can begin with creating a business logo.
How Do I Create a Logo for My Business?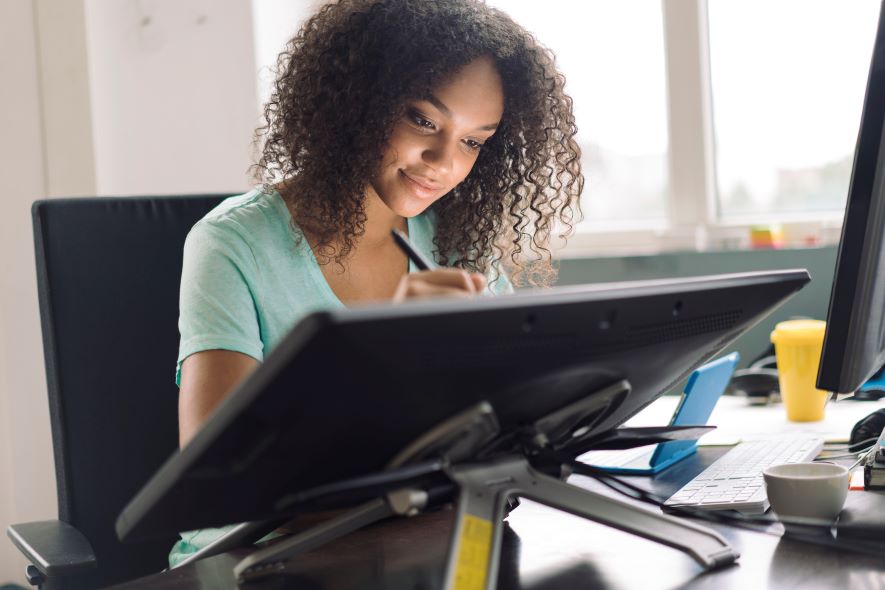 If you're ready to create a logo for your small business, you can start by getting familiarized with your company's brand values and messaging. You'll also want to think about how you want your business to be perceived by customers. You can start by coming up with words, phrases and colors that you'd use to describe your business. Once you have an idea of your brand identity, you'll need to decide if you want to hire someone to create your logo or if you're comfortable with creating your own logo with an online tool.
There are many free online tools available for business owners to create their own business logo designs. Keep in mind that although doing it yourself will be free, this may be the more time-consuming option if you don't have any graphic design experience. Hiring a professional graphic designer or logo design service can help you find a unique and original approach to a business logo based on your input and feedback, but it may be more expensive than doing it yourself.
How Much Should I Spend on My Company Logo Design?
Your business' logo is an investment into your brand identity that can directly impact customer awareness and loyalty. On average, small business owners spend between $300 to $13,000 on their company logo design. There are tools you can use to make a free logo design, but if you don't have any design experience it's worth recruiting help from the experts. For example, you can tap into the expertise of a freelance designer, marketing firm or graphic design company to help bring your logo ideas to life. You can find freelance graphic design help from resources like LinkedIn, 99 Designs and Fiverr.
How Can I Create a Brand Logo for Free?
If you are looking for a template, or already have a brand logo design in mind, be sure to check out one of these free online tools to create your business logo:
Canva is a free, online design platform where you can create your own custom designs with a free account. Canva has a variety of templates for business logo designs to choose from and customize. This online platform is user-friendly and a great option for new businesses and start-ups. Once you create your free business logo, Canva can also help you create your own marketing materials and content that compliments your brand logo.
Adobe Express is an online design tool that allows you to create a logo quickly and easily for your business. Adobe Express also allows you to edit photos and videos and design social content all in one space. If you are not very experienced in graphic design, Adobe Express offers a library of design templates to choose from and then customize to make it your own.
What Are the 5 Principles of a Logo?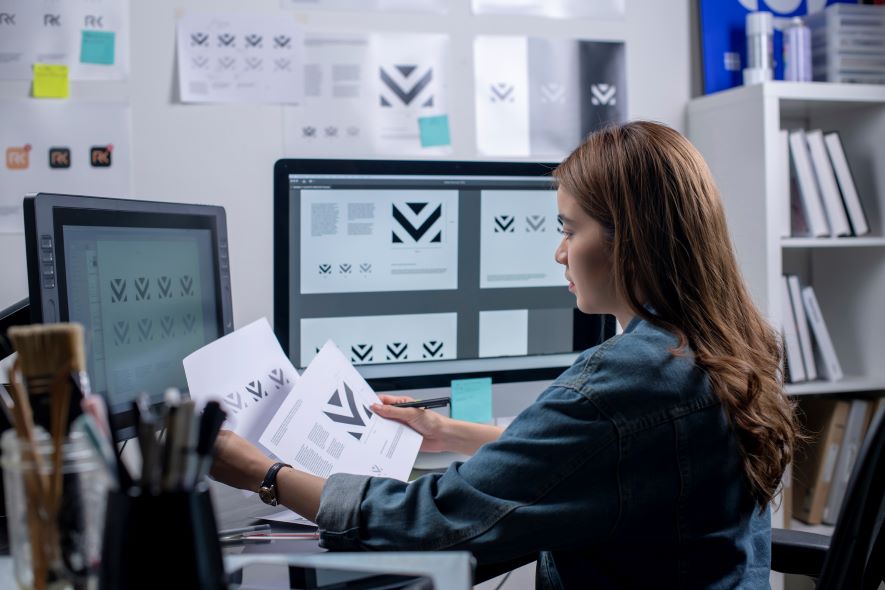 There are 5 different logo design principles that you can use to guide your logo creation process. These design principles are:
Balance: The alignment, spacing and symmetry of your logo design will help achieve a balanced look. You'll want to avoid anything that looks too busy or out of place.
Repetition: According to Canva designers, the best way to incorporate repetition into your logo without it feeling repetitive is to incorporate patterns with minor differences. This could be in the form of the same text in different colors, or icons and shapes with slight variations.
Contrast: Many designers use a contrasting color scheme to help make the various elements of their logo design stand out. The most common color used in logos is blue, which contrasts nicely against white. Approximately 40% of Fortune 500 companies use blue in their logo design.
Dominance: You will want to make sure the most important element is the most prominent. This will help draw the customer's eyes to one area and spark their interest.
Hierarchy: The principle of visual hierarchy is how you structure your elements in a way that intentionally guides the viewer's eye through your logo design. Consider what part of the logo the viewer will look at first and then where you want their eyes to go next.
Next Steps: Want to learn more? Sign up for the Small Biz Ahead newsletter to receive a weekly roundup of the latest tools, trends, and resources.