It seems like we're in a recession. Or at least a slowdown, right? That's what we're reading in the news.
Most economists define a recession as a fall in gross domestic product for two quarters in a row. Recently, the GDP has done just that. Most economic experts I know are predicting another quarter of negative or flat numbers this current period.
Industrial production, manufacturing demand, builder and housing markets are in decline. Both consumer confidence and small business optimism remain at historically low levels. Consumer spending relies on personal income, and personal income has been stagnant over the past two years. To add insult to injury, stock indexes are down 20% since January. More than 80 financial advisors say a recession is coming—one big investor believes it's going to be a "whopper."
Inflation, labor and supply chain issues persist. Producer prices remain at an elevated annual level (close to 9%). Prices for core products across industries, covering everything from industrial chemicals to construction materials to fertilizer, are still clocking in with double-digit increases over the past two years.
This is not good news. And yet, here's the strange thing: Small businesses are still hiring!
Just this past month, the National Federation of Independent Business found that 50% of all small business owners reported job openings they could not fill in the current period—a record high. Not only that, but the number of unfilled jobs far exceeds the 48-year historical average of 22%.
"Small employers are struggling to fill open positions and find qualified workers resulting in record high levels of owners raising compensation," said NFIB Chief Economist Bill Dunkelberg in the NFIB release. "Owners are raising compensation in an attempt to attract workers and these costs are being passed on to consumers through price hikes for goods and services, creating inflation pressures."
What is going on? Who's hiring during a recession? Does this make sense? The current economy is confounding most economists. But not me. There are two reasons to describe what's happening.
The first reason: We live in a very big country with a big economy.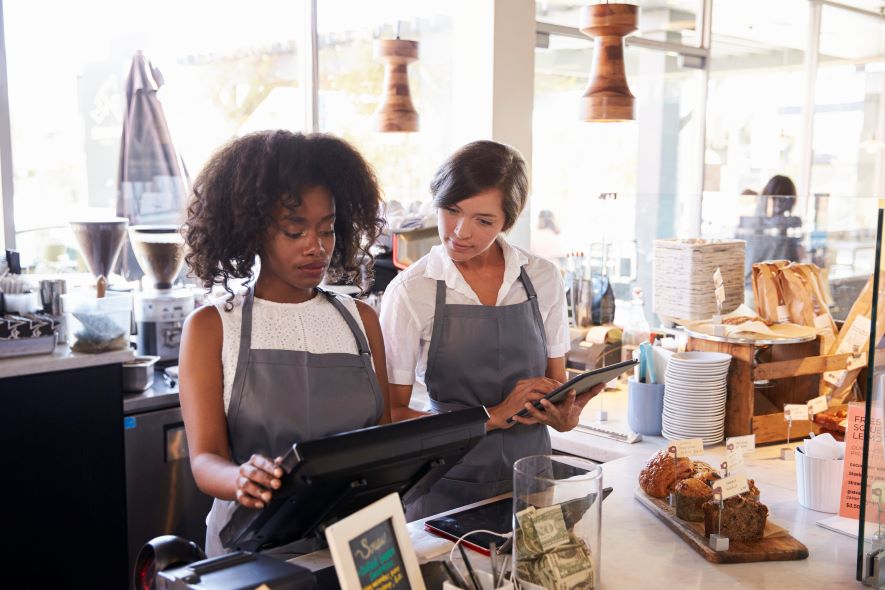 Just look at this map. Do you see what I see?
California is America's largest state economy, with more than $3 trillion of economic output in 2019. That's more than the entire countries of India ($2.81 trillion), the United Kingdom ($2.84 trillion) and France ($2.71 trillion).
In Texas, economic output in 2019 was $1.9 trillion. That's higher than the entire GDP of Brazil ($1.85 trillion). And the state of New York's GDP in 2019 ($1.73 trillion) exceeded Canada's ($1.70 trillion).
In the United States, our GDP is still 60% larger than China's and bigger than Japan, Germany, the UK, France and Italy… combined.
We're big. Which means that our economy has many variations. Manufacturing may be down, but the service industry is booming. Real estate and construction have significantly slowed, but people are traveling in our airports at pre-pandemic levels. Main Street may have its challenges, but e-commerce, distribution and transportation firms are doing fine. Many of these firms are hiring or looking to hire.
The second reason businesses are hiring: Capital.
Many small businesses that have been around for decades know that their biggest asset is their people—not technology and productivity tools. And no, this isn't a corny catch-phrase.
They know that after every downturn —like the one some are facing now—comes an upturn. They've lived through economic cycles. They realize that their future profits and long-term value depends on having the right people in place. They've learned that when they find the right person, they'll jump over mountains to hire them.
There are about 11 million unfilled jobs, and it's unlikely that this situation is going to change soon. Immigration reform is needed, but probably won't happen for a while. Sure, it's possible some businesses—especially those in industries facing headwinds—are not tenaciously pursuing all of their job openings. But if they find the right person, they'll hire. That's because they know that the right person will help them in the future.
Many small business owners feel "optimistic" about the future, despite the challenges they face. That doesn't surprise me. We're always looking to hire talent that shares our same optimism and desire to succeed, regardless of what today's economic data shows.
Next Steps: Want to learn more? Sign up for the Small Biz Ahead newsletter to receive a weekly roundup of the latest tools, trends, and resources.