Ready to start a business from home? In today's digital age, starting a home business is easier than it's ever been. And with so many people getting a taste of working from home during the recent pandemic, home-based work is more common than ever before.
Starting a business from home offers the entrepreneur many benefits:
Lower startup costs. A lease is one of the largest costs associated with starting up a new business. With a home-based business, you won't need to lease business premises. You also won't need to pay separate utility bills for your business.
Be your own boss. Like all small business owners, running a home business means you are your own boss.
No more commuting. One of the best things about starting a business from home is doing away with your daily commute. When your office is steps away, you'll save time and money, not to mention reducing your stress levels.
And starting a business from home has never been easier. If you Google "how to start a small business from home," you'll find plenty of free resources to help you get your home business up and running.
Not sure what kind of home-based business would work best for you? Our list of home business ideas below is a great starting point. And if nothing stands out as being your perfect home-based business, use these work-from-home ideas to inspire you to come up with the right one for you.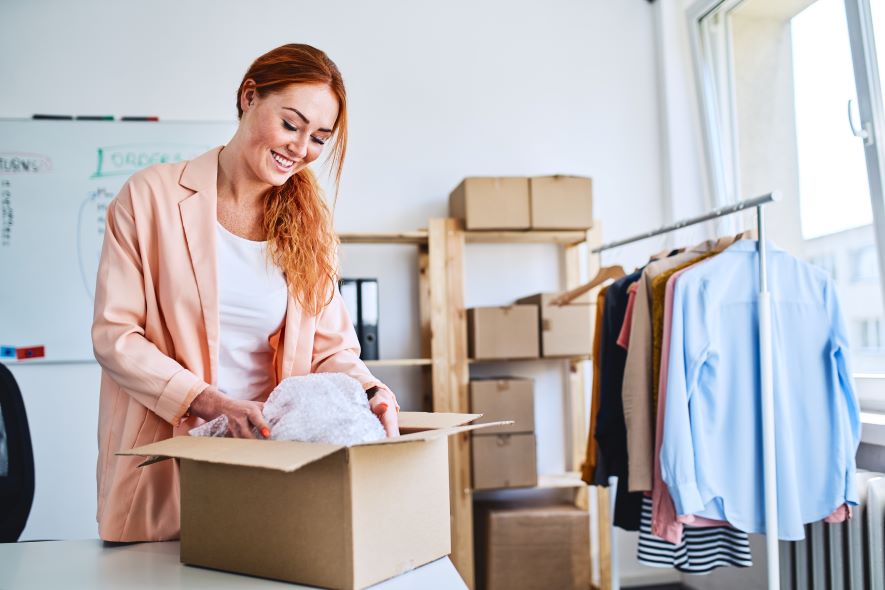 Starting a Business From Home
If you're not sure how to start your own business, you're not alone. Knowing how to start a small business isn't always easy. That's why we've compiled some preliminary steps you can take to help you get your home business off to a good start. While running a business from home doesn't have to be complicated, it's always a good idea to take the time to lay out the proper groundwork.
Develop a Business Plan
Starting a small business takes planning. It's important to develop a business plan before you start investing your time and money into any home business ideas. Taking the time to put together a business plan helps you to:
Clarify your idea
Decide whether your idea is workable
Figure out how much money you'll need to get started
Set long-term goals for your home business
Make Dedicated Workspace
You should have space in your home that's dedicated to working on your business only. For example, if you run your business from your kitchen table, then the table should only be used for work during business hours. Home business owners should set clear boundaries between their work and home life right from the start.
Once you know where your workspace will be, don't forget to check on practical matters such as how close you are to your Wi-Fi router. And if there's only one electrical outlet near your workspace? Finding out the proper way to have multiple devices plugged into that outlet can save you headaches in the future.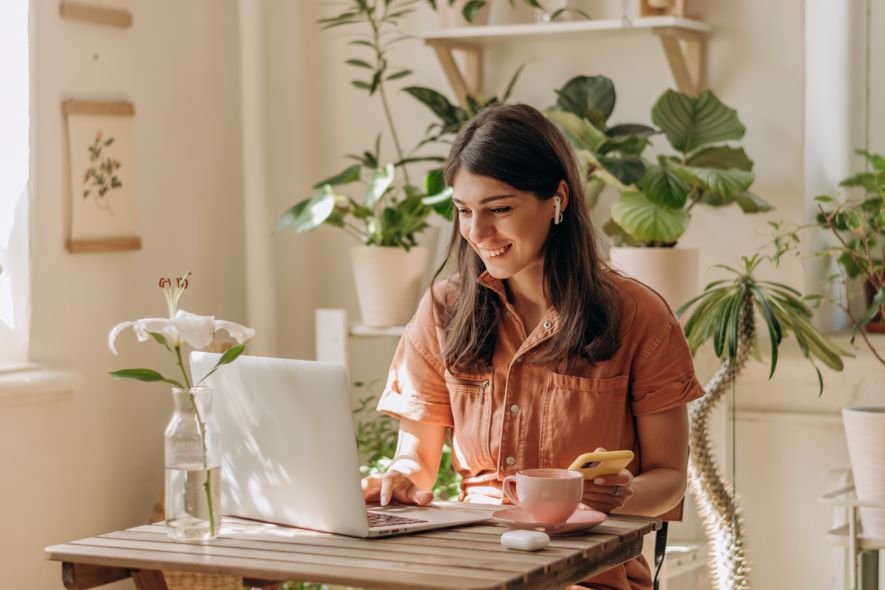 Make Time
Time management becomes particularly important when running a business from your home. One of the major pitfalls of working from home comes from the "home" aspect of a home business. Carving out a regular work schedule will help you make the most productive use of your time.
During your scheduled work time, make your business your top priority. This often means ignoring any potential home-related distractions that might come up. Giving in to such distractions can put a big dent in the time you've set aside for working on your business.
Work From Home Business Ideas
There are many jobs you can do from home. To help you find the one that's right for you, we've created a list of "work from home ideas" below. We've listed twenty of the best small business ideas, from home daycare businesses to running your own show as a freelance copyeditor.
Use the ideas below to start brainstorming the most profitable businesses for you. You may find an interesting business that's not quite the right fit for you. If that's the case, use the idea as a jumping-off place to generate more potential home business ideas. And during this process, it's also important to consider the skills you already have, so you can see how to integrate them into your home business.
Home Daycare
A home daycare business is great if you enjoy taking care of children, particularly if you're a parent who already stays home to look after your own children. Be sure, however, to check your local and state regulations and requirements for running a home daycare business. You may need to have certain credentials or apply for specific permits in order to run a daycare from your home.
Web Designer
Web design is a booming business these days since most companies need a website to succeed. As a web designer, you'll design and update websites either by coding from scratch or using a web design platform such as WordPress. If you have site coding skills or have experience with a web design platform, a web design company might be the perfect home business idea for you.
Tutor
Do you have a teachable skill? With the rise in online platforms such as MyTutor, it's never been easier to teach what you know by becoming an online tutor. And these days, you can teach just about any skill you're an expert in. While the traditional academic subjects are still a big draw, as an online tutor you can provide instruction in a wide range of subjects, from languages to abstract painting to mastering the culinary arts.
Music Teacher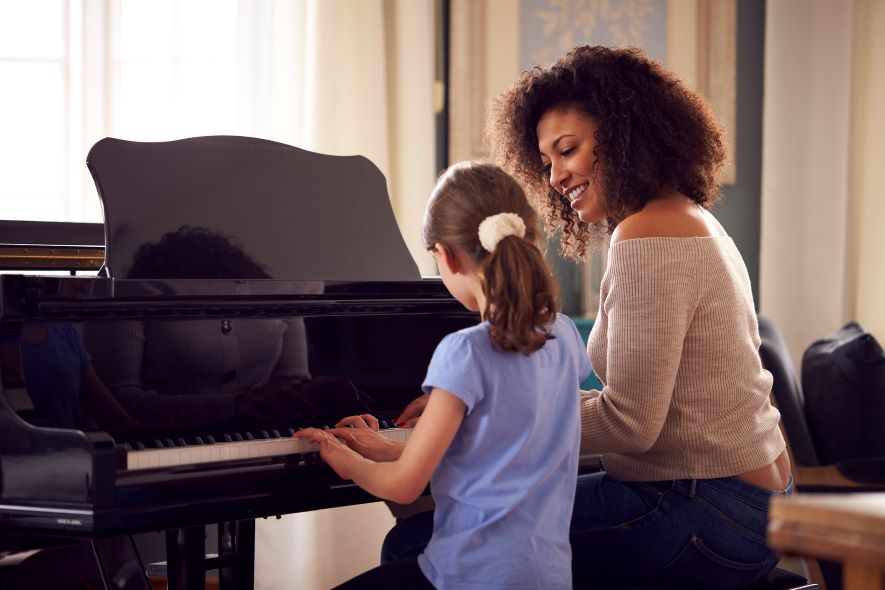 If you have musical experience or can play an instrument well, becoming a music teacher is a work-from-home idea that might be ideal for you. There are a number of ways you can offer your music teaching instruction. You can go the traditional route as a music teacher teaching in-person sessions out of your home. You can also offer your services as an online music teacher by using a tutoring platform or video conferencing software such as Zoom.
Jewelry Maker
If you're creative and enjoy making your own jewelry, becoming a jewelry maker might be the right business path for you. Whether you enjoy making glass pendants or bead bracelets or earrings, or repurposing vintage jewelry, there's a market of people who would enjoy wearing your creations. And with the rise of websites such as Etsy, you can easily set up an online storefront to display and sell your handcrafted wares.
Copywriter
Do you have a way with words? Businesses across all sectors are always on the lookout for good copywriters. As a copywriter, you'll be crafting ads, website landing pages, email newsletters and other written pieces aimed at creating sales and generating leads for your clients. And copywriting outsourcing sites such as Copify can help you start landing copywriting jobs that you can do right from your home.
Hair Stylist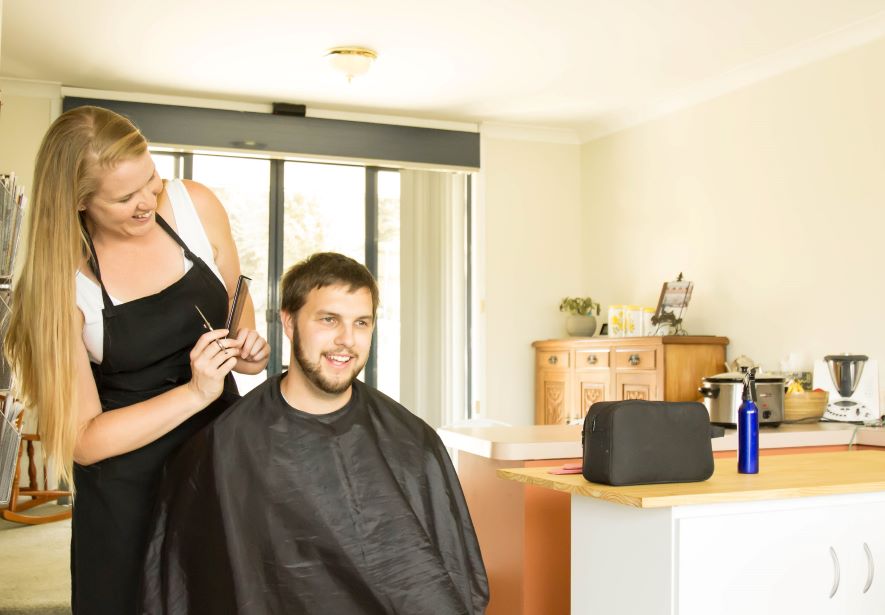 Many hair stylists run their own businesses out of their homes. Becoming a home hairdresser does require a small investment in the tools you'll need to carry out the job. But if you have experience styling hair and enjoy the work, it's an investment that will be well worth it. As with some of the other ideas on this list, running a hair styling business from your home may require a license. Be sure to check with your local and state regulations about any requirements you may have to meet.
Social Media Manager
It's become increasingly important for businesses to have a social media presence on platforms such as Facebook or Instagram. But even though most businesses choose only one or two social media platforms to focus on, it still adds up to extra work. This means many businesses are willing to spend money on social media management. If you have a knack for writing social media posts that get a lot of engagement, becoming a social media manager may be right up your alley.
Pet Groomer
Are you an animal lover? Running a pet grooming business out of your home can be a great way to combine your love of dogs or cats with a profitable business idea. As with some of the other ideas on this list, becoming a pet groomer will require a small investment in the right tools for the job. But armed with these tools, you'll be in a good position to make back your investment during the early months of your business.
Clothing Designer
Working as a clothing designer is another business idea if you are creative and have a flair for fashion. Being a clothing designer doesn't necessarily require sewing talent, either. While you can design and sew the clothes you sell, there are other design methods you can utilize to create your wares, such as printing your own t-shirt designs using a print-on-demand service such as Printful.
Life Coach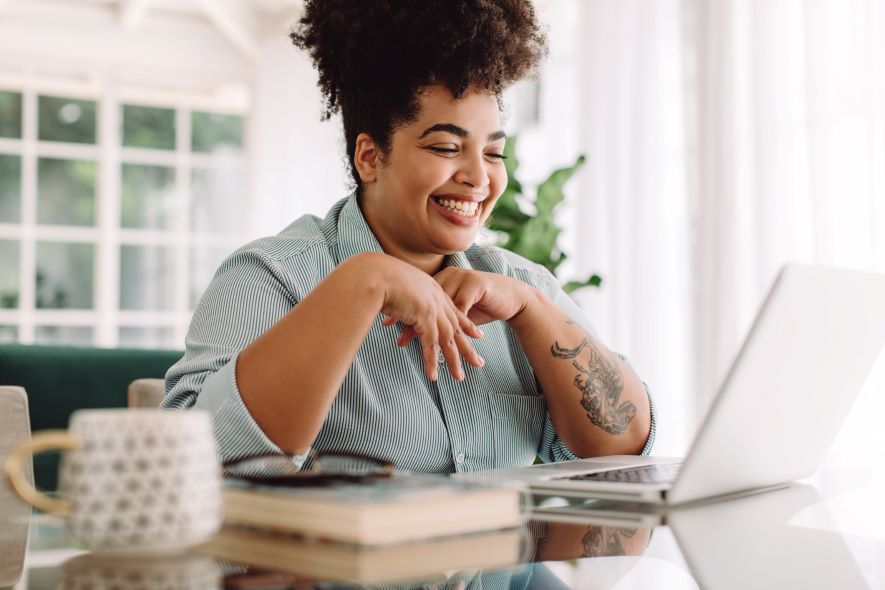 Life coaching has become more and more popular in recent years. Many people who find themselves stuck at some level in their work life or relationships turn to life coaches for help. If you enjoy helping people develop career plans and work on their relationships, becoming a life coach might be a fit for you. One of the key benefits of being a life coach is the flexibility it offers. You can provide life coaching services online or in person, and you can do it full-time or part-time.
Graphic Designer
Do you enjoy putting together eye-catching visuals? Like copywriters, freelance graphic designers are in high demand. Visuals are important for a company's marketing, branding and communications campaigns. This means businesses across all industries are often in need of design work. And similar to copywriting, you can get started with design work through freelance design sites like Behance.
Translator
If you're fluent in more than one language, setting up a home business as a freelance translator may be the ideal business for you. In today's global environment, translation services are needed everywhere. This means there's a broad range of freelance translation work available, from written work like articles and books, to video and audio content, such as podcasts and closed captioning for audiovisual works.
Digital Marketer
Digital marketing has changed the marketing landscape for businesses across all sectors. And the demand for digital marketers continues to grow. Digital marketing encompasses a wide range of marketing activities, such as content writing, search engine optimization (SEO), pay-per-click (PPC) advertising, and social media marketing. This gives the freelance digital marketer the chance to focus on and develop expertise in specific niches within the digital marketing world.
Virtual Assistant
Do you like to be organized? If daily planners are your thing and you have no trouble juggling your calendar, being a virtual assistant could be a fit for you. As a virtual assistant, you will do a multitude of smaller tasks that help keep your clients' businesses on track. If tasks such as managing client calendars, sending out emails, responding to invites, preparing documents, and making calls sound like fun to you, becoming a virtual assistant is definitely a home business idea worth exploring.
Freelance Coder
If coding is one of your skills, becoming a freelance coder can be an ideal home business. You may be more used to employment with a software or tech firm, but developing software on a freelance basis gives you more flexibility in your workday. You'll also get to experience a broad range of projects, which can help to expand your coding skills further. And the best part? Freelance coders have long been in demand, which will continue in our increasingly digital age.
Transcriptionist
Do your fingers fly over your keyboard? If you have a knack for transcribing words, being a transcriptionist might be just the thing for your new home-based business. Transcription services are always in high demand, and you can land jobs and clients in any number of different industries. And getting into the transcription biz has never been easier. You can begin making money as a transcriptionist on a number of transcription platforms, such as GMR Transcription.
Accountant
If you're an accountant who's tired of the nine-to-five grind of working for an accounting firm, you may want to begin working for yourself in a home business. As a professional with the proper credentials, being a freelance accountant lets you own your own business while still working with numbers. Of course, becoming a freelance accountant isn't for everyone. But if you have the required certifications and training, setting up shop in your own home might be the way to go.
Vintage Clothes Seller
Do you enjoy the thrill of discovering a unique piece of vintage clothing? You can share your joy with others by becoming a vintage clothes seller. Sourcing vintage wares has never been easier, using thrift stores, estate sales, and online classified platforms such as Craigslist. And you can quickly set up an online storefront for your vintage finds using online selling platforms such as eBay.
Copy Editor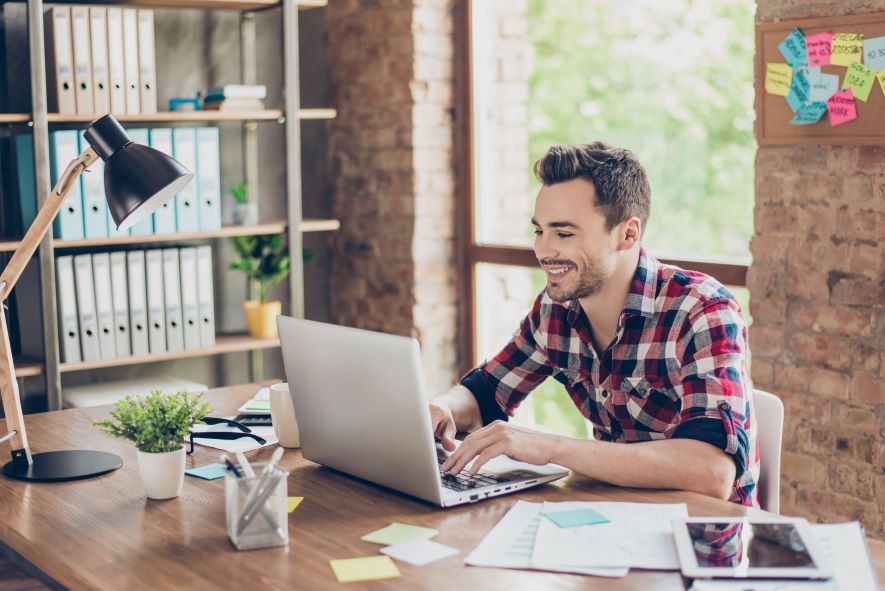 If you hold strong opinions about things like the Oxford comma, freelance copy editing is a great way to put your passion for grammar to good use. Freelance copy editing is also one of the top small business ideas for home-based work. Copy editing is something that companies across all industries need. And the range of projects you can work on as a freelance copy editor can be diverse, ranging from book publishing, magazine articles, websites and corporate communications.
Being a Small Business Owner
If you're interested in home-based work, there's never been a better time than now to start a business. Owning your own home-based business gives you all the benefits of working from home.
Whether you're looking to reduce your commute time, or you want the control of being your own boss, you can join other small business owners who have successfully reclaimed their work lives by starting up their own home businesses.
And once you've set up your home business, make sure you protect your startup with the right small business insurance package.
Ready to set up your small business? Incfile has helped over 1,000,000 businesses launch since 2004. Learn how to get started by visiting Incfile's website today.
Next Steps: Want to learn more? Sign up for the Small Biz Ahead newsletter to receive a weekly roundup of the latest tools, trends, and resources.