While there is still undoubtedly a global entrepreneurial gender gap, that gap is closing in the United States. According to the annual State of Women-Owned Business Report, American women started an average of 1,817 new businesses every day last year, representing 42% of all U.S. businesses. Over the past five years, the number of women-owned businesses increased by 21%, and now employ 9.4 million workers, generating revenues of $1.9 trillion.
To examine the size, attitudes and challenges for these female-owned small businesses across America, Small Biz Ahead did a survey.
Women-Owned Business Are Often Small, but are Proactive
We found that most women-owned small businesses in the U.S. are small, with more than 70% having a single employee, and over two thirds turning over $50,000 or less per year. More than half operate in a business-to-consumer (B2C) capacity, and nearly one fifth have customers outside of the United States.
We also found that female entrepreneurs in America are proactive when it comes to starting a business, with most launching after less than a year of planning:
Our research showed that more than half of women entrepreneurs used their personal savings to start their business. For those women who did opt for funding from external sources, a majority stated that cheap or competitive rates was the most important factor in choosing a provider. In contrast, the majority of male entrepreneurs said that an existing relationship with the provider was their most important factor.
When it comes to online brands used to support their business, female entrepreneurs consider PayPal as the most useful:
Female Entrepreneurs Are Still Facing Challenges
In a 2019 survey, HSBC Private Banking found that female entrepreneurs secured an average of 5% less capital globally than their male counterparts – a discrepancy that increases to 8% in the United States. They also found that 46% of female entrepreneurs in America experience gender bias. Despite this, most female entrepreneurs don't believe this bias exists in venture finance:
However, female entrepreneurs are still experiencing significant challenges in starting and operating their businesses. Our survey found that access to support networks and mentorships was a particular issue for women-owned small businesses:
Motherhood limitations was also a major concern among women-owned small businesses, with 40% believing it represented one of the biggest challenges facing women entrepreneurs: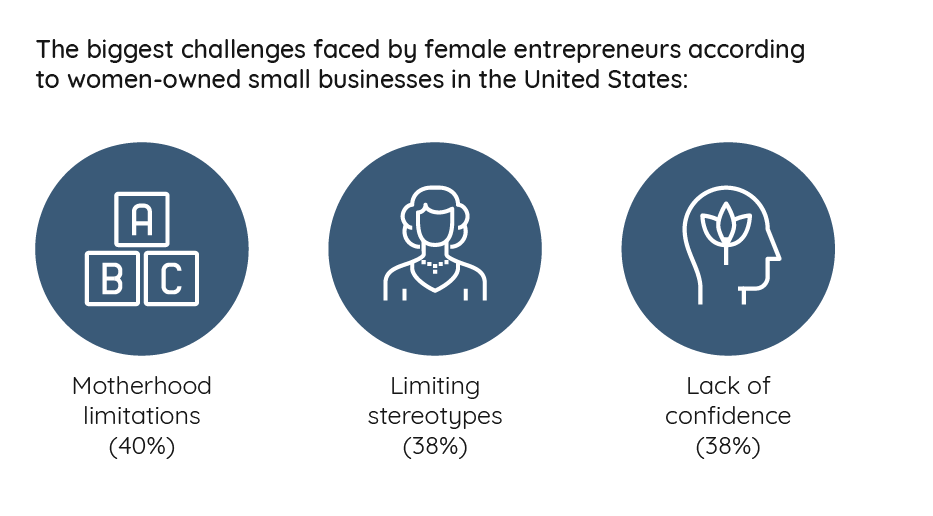 Despite this, most women-owned small businesses are run by those with children. In fact, we found that 65% of female entrepreneurs in the United States have a family.
When it comes to the future, most female entrepreneurs said that finding more customers is their biggest challenge:
This concern will only have been heightened by the Covid-19 epidemic in America, which has forced many small and large businesses into temporary closure.
Most Women-Owned Small Businesses Are Comfortable Taking Risks
In the late 1990s, a now famous study found that young boys were far more likely to rate potential risk as lower than their female counterparts. Since then, studies like this one have strengthened this opinion, finding that women are more risk-averse than men.
Our research, however, shows that female business owners are comfortable in taking risks in relation to their business decisions:
Female entrepreneurs are also happy to follow their gut when it comes to making important decisions in their businesses. When asked what advice they would give to their younger selves:
Next Steps: Want to learn more? Sign up for the Small Biz Ahead newsletter to receive a weekly roundup of the latest tools, trends, and resources.