Starting a business alone can be overwhelming. That's one reason many entrepreneurs decide to take on business partners.
Working with the right partners can make your life easier, add value to your business and pave a smoother road to success. But the wrong partners can add stress and hurt your business.
Whether you're hoping to gain a go-to partner to run day-to-day operations or you simply need help funding your business, it's important to vet your partners for long-term compatibility.
How to Decide Whether a Potential Business Partner Is a Good Fit
Before you can evaluate a potential business partner, you need to understand why you want one. Do you need strategic guidance, valuable introductions to the right connections, or someone with a complementary skill set who will stay fully engaged in the business?
Be realistic about what you need. Then use that insight to guide you while assessing potential partners. Consider each of the following as you search for a good fit.
1. Experience
Much like interviewing a job candidate, you should consider a potential business partner's background. Ask about their past job experience and share your own. Discuss what you've each learned along the way. If they're an entrepreneur who has started and run past companies, look into those companies' track records. If any of their past companies have failed, ask what they learned from the experience. Explore what each of you brings to the table, including your connections.
Questions to ask about their experience:
What jobs did you have prior to running businesses?
How long have you held leadership-level roles?
Have you started any other businesses and what were the outcomes?
Have you been part of a business partnership before?
How do you work through difficult challenges?
What does your experience bring to the table for this business?
How would you describe your personal and professional network?
2. Skills
If you're looking for a hands-on co-founder and business leader, a prospective business partner's skills are especially important. Find out if they have any professional specialties they can use for your business, such as digital marketing, IT, HR or sales. You may also consider whether they have character attributes that complement and balance your own.
Questions to ask about their skills:
What are your strongest skills and how do you see them fitting into this business?
What are your strongest attributes and character traits?
Do you see your skills fitting well with mine?
Have you handled any business crises?
What were your past roles at other businesses?
Where do you see your biggest impact on this business?
3. Business philosophy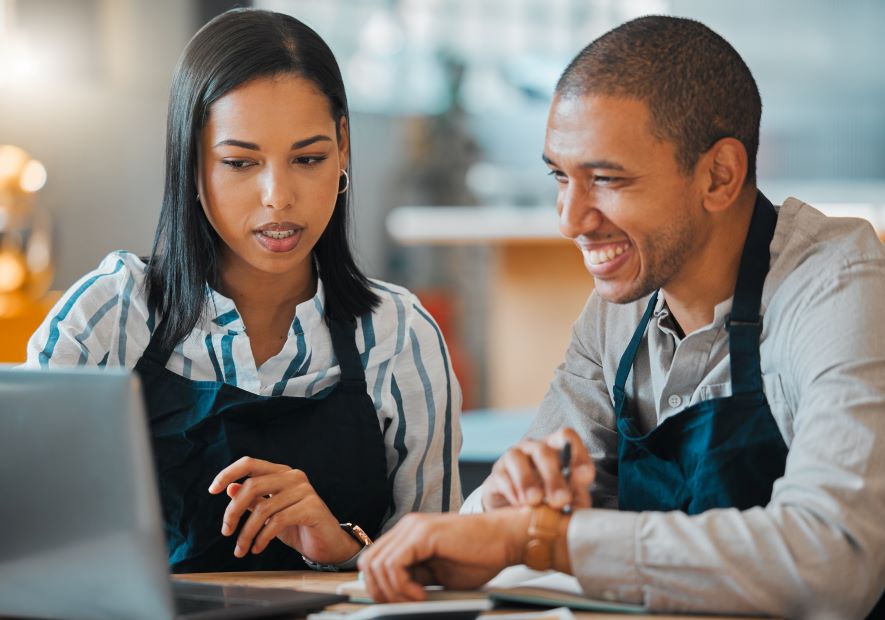 It can be difficult to work with a business partner who holds a different core philosophy from your own. Conflicts are bound to arise if you disagree about company culture, for instance. Consider whether a potential partner will thrive in the atmosphere you hope to foster at your company. Will they have similar views about success, and will they get behind your ideas about how to achieve it? Even if your differences are slight, it's important to ensure mutual respect and discuss how to move forward when your opinions or approaches differ.
Questions that can help uncover a prospective partner's business philosophy:
What's important to you in business?
Why does founding and running a business appeal to you?
Which style of leadership do you think is most effective?
What are your expectations for your role in this business?
What are your core business values?
What does business success look like to you? What about failure?
How have you achieved success in business?
How do you see us working together and balancing roles as leaders?
4. Goals
To start a harmonious and fruitful business partnership, you need to share short- and long-term goals. Plus, if you're aiming to hold onto your business for much of your career, you need to make sure that a prospective partner shares a similar long-term vision for your company. Consider both their personal and professional goals. Discuss whether your vision for the company aligns. Do they want to sell within five years and make a profit? Or do they hope to lay the foundations for a legacy company?
Questions to ask related to goals:
What motivates you, especially related to this partnership?
What are your professional and personal goals?
What would be your goals for this business?
What do you hope to get out of this business partnership, both professionally and personally?
What are your expectations for this business?
Do you see yourself running this business long term?
Is there a time limit on us working together?
If you plan to sell your shares, when would you feel it's the right time?
Do you have a preferred exit strategy?
How long are you willing to wait for success?
Where do you see this business in five years? What about 15 years?
5. Personality and lifestyle
Compatibility isn't just about experience and professional values. Effective partnerships require honesty, humility and stability. Consider a potential partner's personality, working style and work-life balance expectations. Will a partnership with this person mesh well with your own goals and working style? As you evaluate their personality fit, consider whether they'll be an effective manager. If they might not make a good leader, can you fill that role? And if so, do you think they'd be comfortable with that?
Questions you can ask to determine personality and lifestyle fit:
Which communication channels do you prefer?
How do you tend to resolve conflicts?
Do you prefer to work on your own or as part of a group?
Do you enjoy collaborating?
What do you think supports good teamwork?
What's your management style?
Do you enjoy managing people?
What are your values, both professionally and personally?
What is your tolerance for risk?
Are you working on any personal goals?
What are your priorities in life and work?
How much time do you see yourself committing to this business each week?
These questions can help you start meaningful conversations to uncover whether someone is the right partner for you. Your discussions may also uncover gaps in your collective skills, experience and network. Use this knowledge as a guide in deciding which types of employees and vendors to hire first.
Remember, most conflicts arise from misaligned goals and mismatched expectations. So once you think you've found the right partner, set clear expectations with each other from the start.
Next steps: Want more small business tips as you work toward your entrepreneurial goals? Sign up for the Small Biz Ahead newsletter today.