No matter what kind of small business you run, you need to get paid. Wouldn't it be great to be paid on the spot, rather than having to chase customers around?
Mobile payment apps allow businesses to be paid quickly and easily. Businesses can open the door to mobile payment processing with various payment apps for small businesses. We've put together our top ten must-have mobile payment apps and you can learn about their costs, similarities, and differences below.
Maybe you just finished painting a customer's house and want to collect payment. Or maybe you're a freelance copywriter with a client who's ready to put down a deposit on a big project. Or maybe you're a retailer that's prone to long lines, and you'd like a way to step in and take payment while customers wait in line.
In each of these situations, you can download the mobile payment app of your choice. Once you create an account, the company will mail you a free card reader to plug into your smartphone to collect payments.
Here's How Mobile Payment Apps Work
Every mobile payment app essentially performs the same function, called mobile payment processing. More specifically, mobile payment apps enable small businesses to process credit and debit card payments anywhere with a wireless internet connection. Mobile payment apps use a smartphone and an attached card reader and the details that differentiate each app are what make each app's customers raving fans and supporters.
Once businesses choose between payment apps for small businesses, they're ready to accept mobile card payments. Here is how a mobile payment app works: customers swipe their credit cards or "dip" their chip-enabled cards through a small card-reader that plugs into a smartphone, and then the mobile payment app processes the payment. That's all there is to it. Simplicity is what makes payment apps for small businesses so useful.
The transaction is secure and simple. Businesses only need a smartphone, such as an iPhone or Android device, and most mobile payment apps can be downloaded for free. And instead of signing a paper receipt, customers sign their names on your phone using their fingertips.
While there are many mobile payment apps on the market today, the top five mobile payment apps featured here are the cream of the crop. Small businesses have been using these apps for years and they've been field-tested by thousands of existing businesses.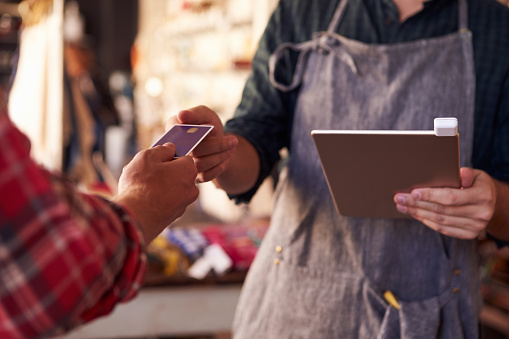 10 Mobile Payment Apps for Small Businesses
Square | Mobile Payment App
Square is one of the most popular payment apps for small businesses available. Square can be used for almost any type of business, and completing a transaction is simple. Square works on smart devices, computers, via invoices, and on websites. On top of payment processing, Square can track inventory, deliver business analytics, and track customer loyalty. For an additional fee, Square can even handle payroll. It's a robust app that's easy to use and while Square's app and reader are free, it collects 2.75% of every payment as a fee, which is common in most mobile payment apps.
Square accepts all major credit cards, including Mastercard, Visa, Discover and American Express. There is also no monthly fee, so you only pay a percentage on each sale. Square will also reimburse you for chargebacks from customers who dispute transactions and ask for a refund—up to $250 per transaction, with a limit of $250/month.
With Square, you'll also receive email confirmations whenever you sell something, which is useful for record-keeping. As the same time, a receipt is emailed to your buyer. The next day, the proceeds of the sale are deposited in your bank account. That is often a big selling point with Square—the money is automatically deposited without a fee.
Square also offers an instant payment option. For an additional fee of 1% of the transaction amount, Square will immediately deposit the proceeds of a sale into your bank account – no waiting 1 to 2 days for the deposit to appear.
PayPal Here | Mobile Payment App
PayPal Here is free to download and will send businesses a free card reader through December 2019. After that, card readers will cost $24.99. PayPal Here works well as a point of sale system, and it gives businesses an easy way to create product lists, assign employee roles and permissions, and track sales.
PayPal charges 2.7% for swiped transactions and 3.5% plus 15 cents for keyed-in transactions and accepts all major credit cards.
Funds received through PayPal are available immediately in your PayPal account, which can then be transferred into a bank account at no charge. It can take 3-4 days for the money to appear in your account. In addition to moving your money into your business bank account, you can also request a bank check or use your PayPal-issued debit card to withdraw money from an ATM, both of which cost $1.50 per transaction.
One detail that makes PayPal Here unique is that it can auto-fill customer information when a card is swiped. Whenever customers swipe a credit card they have previously used, PayPal fills in the previously stored contact information. There's no need to re-enter customer information since PayPal fills it in for you, which can be a time-saver.
It's also important to test the app first before you plan to use it. Don't wait until the day of the event to use it. You may discover that older iPhones are incompatible with the PayPal app.
Intuit GoPayment | Mobile Payment App
Elizabeth Hay of Elizabeth Hay Designs, who designs botanical jewelry inspired by the Art Nouveau and Victorian eras, began using the Intuit GoPayment mobile payment app about four or five years ago. Hay opted for GoPayment mainly because it is an Intuit product, and she felt confident in Intuit's reliability.
GoPayment works on iPhones, Android devices, and iPads and has two pricing plans for customers to choose from:
For businesses with few mobile transactions each month, the option to pay 2.4% plus 25 cents per transaction is likely attractive; keying in sales by hand will cost you 3.4% plus 25 cents.
If you have regular mobile payments, a better option might be to pay a $19.95 monthly fee to Intuit, which then reduces your per-transaction fees to 1.6% plus 25 cents per sale.
GoPayment users can personalize receipts that are emailed to customers and add their company logo for additional brand recognition.
Like Titcher, Hay sells her jewelry at art festivals and shows along the Mid-Atlantic coast. Hay particularly likes being able to log on to her GoPayment dashboard to immediately see all her sales, fees, and customer data. And at some point, she says, she may get around to syncing it with QuickBooks.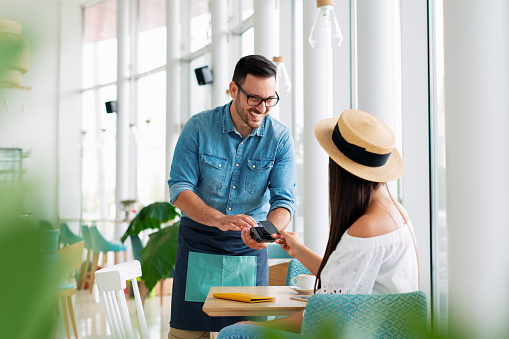 Stripe | Mobile Payment App
When David Burrows and Blake Nichols co-founded Laundri, LLC, an on-demand dry cleaning, wash and fold, and shoe shining service, in 2015, they settled on Stripe as their mobile payment app.
Like other mobile payment apps, Stripe accepts all major credit cards, as well as Diners Club and JCB. It also can handle ACH transactions and Bitcoin payments, which cost .8%, up to a maximum of $5. Stripe charges 2.9% plus 30 cents per transaction but offers volume discounts for companies doing at least $80,000/month.
Though Stripe advertises that money is transferred to your bank on a two-day rolling basis, Burrows reports that Laundri receives deposits the same day. As the business has grown, Stripe has continued to reduce its cost-per-transaction.
Another plus for Stripe, says Burrows, is that "They also provide us with analytics to compare sales, campaigns, and more. The data exports to QuickBooks as well, so that helps for tax reporting and updating our investors."
Yet perhaps more important to Burrows is the fact that Stripe is "quick to answer any questions or disputes," and, he says, "in our business of turning around hundreds of orders in a 24-hour period, that's important."
Stripe states that it charges a $15 chargeback fee for a disputed charge, but if the payment is found to be valid, that $15 fee is refunded to the business.
PayAnywhere Mobile | Mobile Payment App
PayAnywhere offers the same main features as the other top four mobile payment apps here, but now, it is the lowest cost option for lower-volume users.
Like all payment apps for small businesses, PayAnywhere offers a free card reader, free app download, and no monthly fees. But unlike the others, its per-swipe rate is 2.69%, with no additional transaction charge. Money collected is deposited on a next day basis.
The good news about mobile payment apps is that you can try one, and if it doesn't work out, you can switch. The only inconvenience is creating a new account and having to enter all your banking information. It might take a few minutes, but it won't cost you any money.
Some business owners purposely set up multiple payment accounts, just in case one is ever frozen. Having multiple accounts, while a potential nightmare at tax time, helps ensure that you'll always be able to collect payments from customers, no matter where you are.
Additional Payment Apps for Small Businesses
Apple Pay | Mobile Payment App
Apple Pay allows people to use their iPhones or Apple Watches as a form of payment. Customers load their credit card or debit card onto their iPhone or Apple Watch. Using near-field communication, the iPhone or Apple Watch can complete a customer's transaction.
As more banks begin to use the Apple Pay platform, this method of mobile payments is becoming popular. As a business owner, you'll need an appropriate point-of-sale setup to ensure Apple Pay works.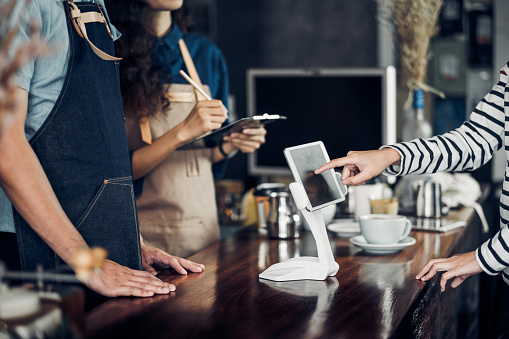 Google Pay | Mobile Payment App
Google Pay allows you to store your debit or credit card on your phone to use as a form of payment. It works similarly to Apple Pay. If your business has a point-of-sale terminal with near-field communication, a customer with Google Pay can use their phone to pay for their items.
Samsung Pay | Mobile Payment App
This method of payment is like Apple Pay in that it allows customers to use their phones to pay for products or services. With Samsung Pay, a customer uses their Samsung phone as a contactless payment. It can also be used on point-of-sale terminals with a magnetic stripe.
Venmo | Mobile Payment App
Venmo, a company owned by PayPal, allows people to send money to others through an app. Users connect their bank to the app and can send or receive money in a convenient way. After connecting to a bank, users can send money for free. Venmo also recently announced the Venmo Card, which acts as a debit card and uses the money in a person's account as the source of funds.
As a business owner, you can charge another Venmo user for a product or service. After they pay you, you can transfer to your bank through the Venmo app. Transferring funds from your Venmo account to your bank account can take one to three business days. The company allows you to transfer instantly after paying a small fee (typically around 25 cents).
Shopify | Payment Apps for Small Businesses
Shopify is a company that provides point-of-sale terminals and mobile payment methods for business owners. If you don't need a full point-of-sale terminal, Shopify has a smaller accessory that serves as a card reader and wireless payment method.
Shopify offers three pricing tiers:
"Basic Shopify" – costs $29 a month. Offers an online store, unlimited products, two staff accounts, 24/7 support, sales channels, discount codes, and abandoned cart recovery.
"Shopify" – costs $79 a month. Includes the Basic Shopify features, in addition to five staff accounts, gift cards, and professional reports.
"Advanced Shopify" – costs $299 a month. Includes the Shopify features, in addition to 15 staff accounts, advanced report builder, and third-party calculated shipping rates.
Next Steps: You're busy. We get it. So why not let us do some work for you? By signing up for the weekly Small Biz Ahead Newsletter, you'll receive hand-picked articles and How-To videos covering the latest in small biz tools and trends. We'll do the research while you spend your time where it counts: managing and growing your business.