Recent weeks have seen a surge in business owners and their employees working remotely. The social distancing and self-isolation tactics meant to slow the spread of COVID-19 have seen millions turn to remote working, taking advantage of technology to continue their business activities.
On Thursday, March 19th, Microsoft Teams announced an incredible 12 million daily active users in a single week, while competitors Slack and Zoom also saw dramatic increases in demand for their services. Of course, this dramatic spike in usage may decline once the crisis is over. However, our own research suggests that might not be the case. Before the Coronavirus epidemic, we compiled research to see how younger business owners are viewing remote working, and they had a more positive than negative outlook for it.
Attitudes Towards Remote Workers Vary Across Generations
In the first quarter of this year, we surveyed 500 small business owners across the United States on how they view remote working. We found that: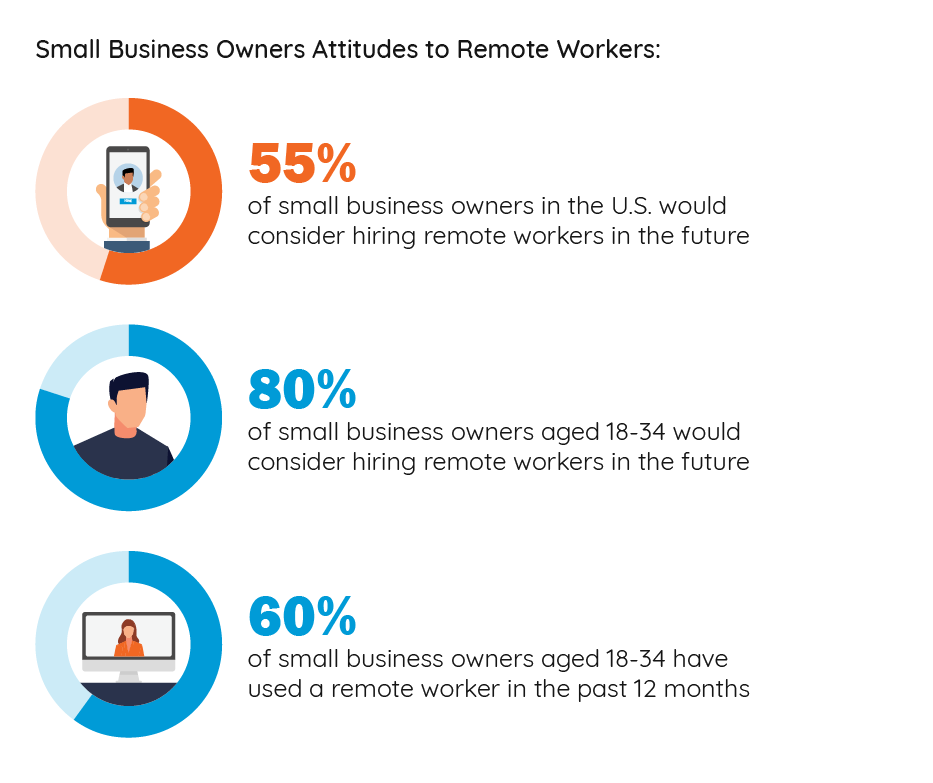 55% of small business owners in the U.S. would consider hiring remote workers in the future
80% of small business owners aged 18-34 would consider hiring remote workers in the future
60% of small business owners aged 18-34 have used a remote worker in the past 12 months
This is a striking statistic, particularly when you consider that, across all age groups, only 36% of small businesses had used remote meeting or videoconferencing technology in 2019.
There is also a clear generational gap in how productive business owners consider remote workers to be. When asked if remote workers were more productive than those working in a traditional office setting, the following said 'yes':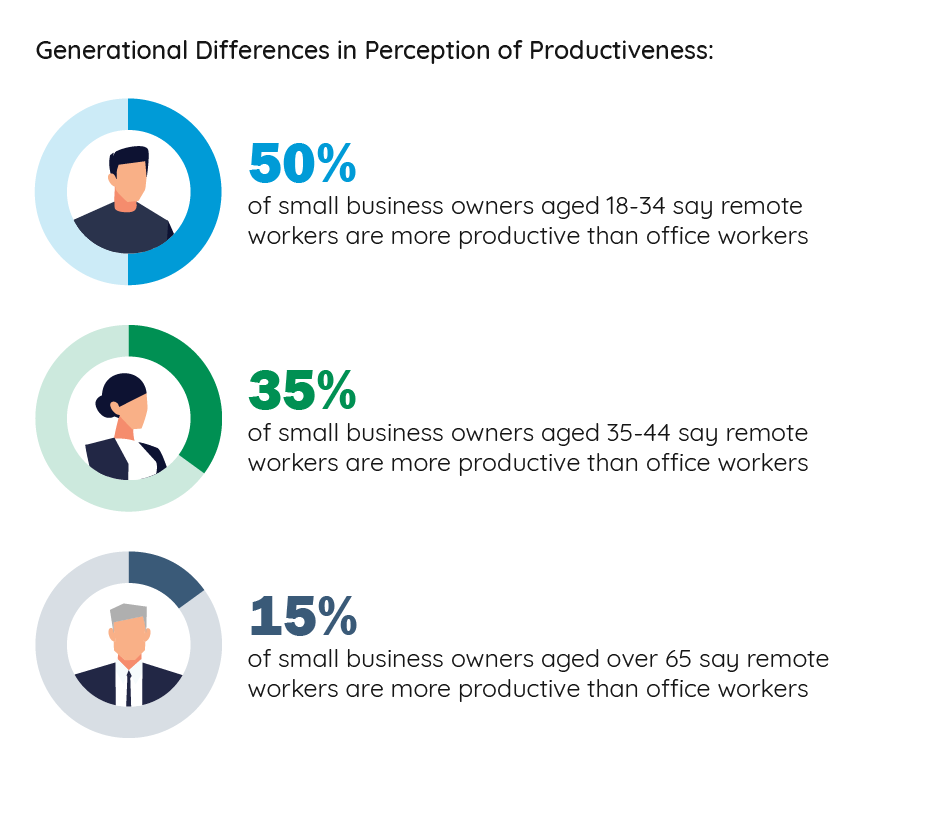 50% of small business owners aged 18-34 say remote workers are more productive than office workers
35% of small business owners aged 35-44 say remote workers are more productive than office workers
15% of small business owners aged over 65 say remote workers are more productive than office workers
Younger business owners are also more likely to consider the quality of remote workers to be higher. 43% of small business owners age 18-34 reported a higher quality of work for remote workers, compared to 16% of small business owners 65 and over.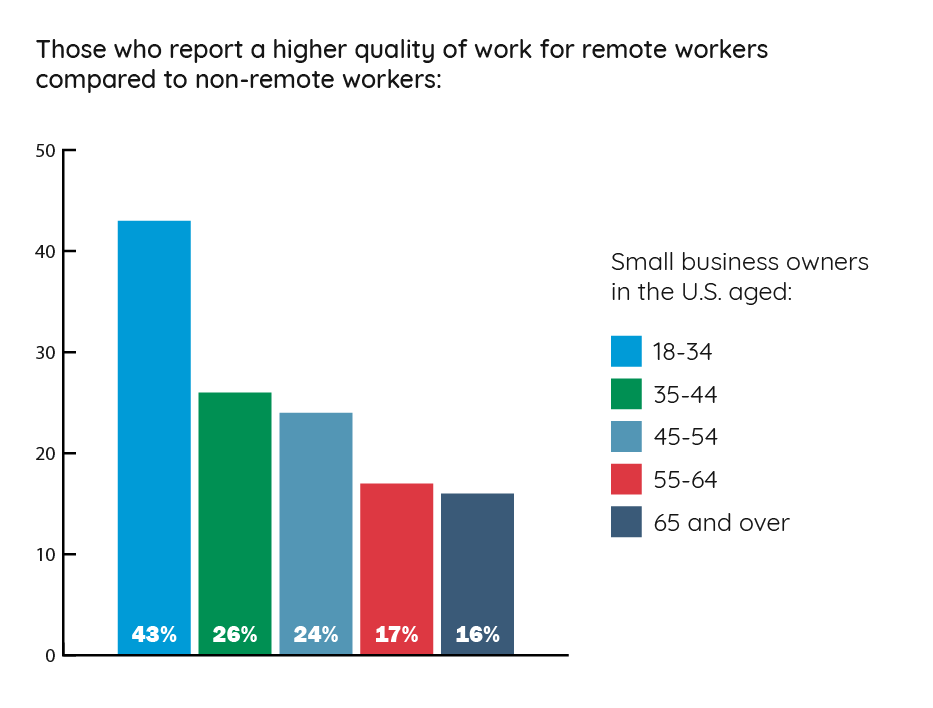 Challenges to Working Remotely
While there was consensus among small business owners that remote working comes with benefits for both the employee and the business, there was also clear concerns about the challenges presented by implementing remote working.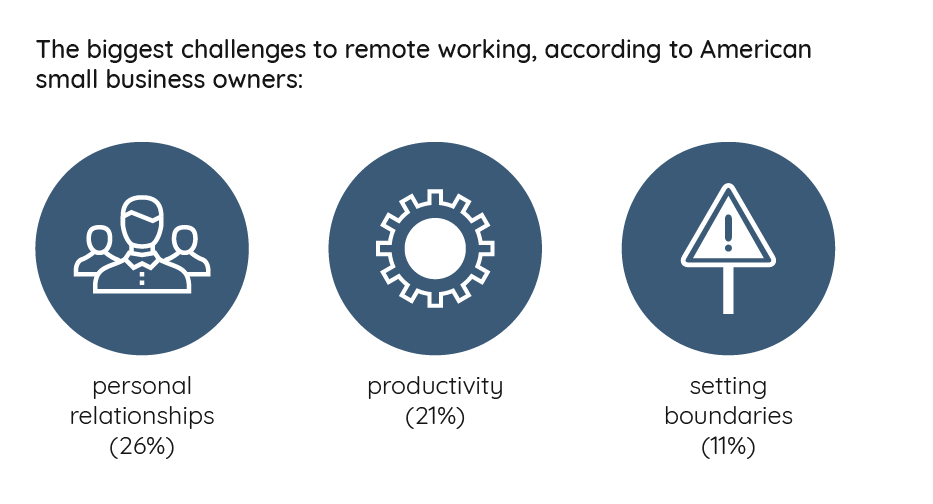 Concerns that employees are being distracted were also prominent among respondents. While only 11% of small business owners strongly agreed with the statement 'remote workers spend too much time on personal matters during work hours', more than 40% conceded that were more distractions at home than in the office. The ability to effectively manage employees remotely was also a concern – 36% of small business owners reporting thinking it was harder to manage a remote worker than a non-remote worker.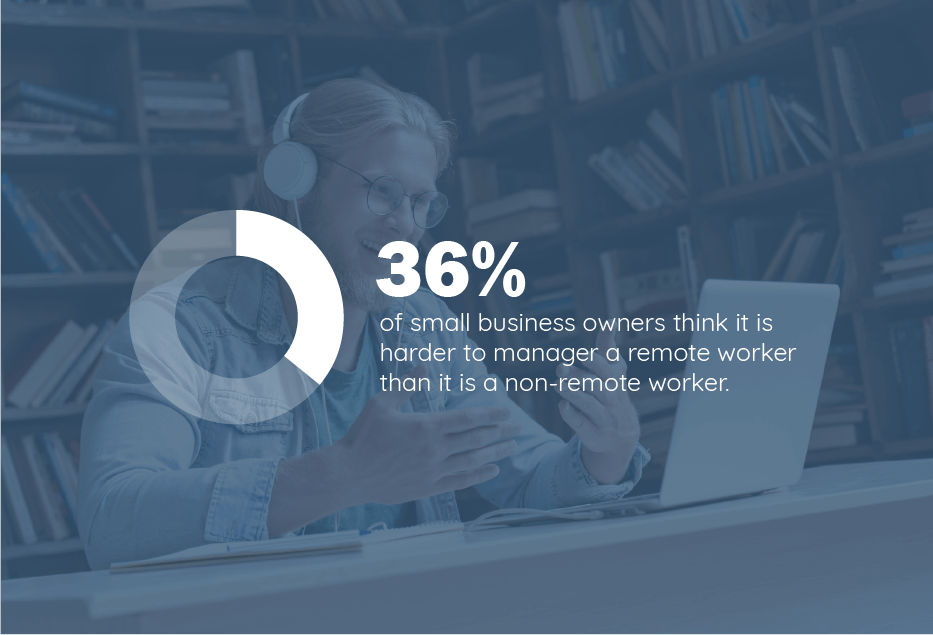 Nearly a quarter of small business owners believe that a work-life balance for employees is the greatest benefit of remote working.
Small Business Owners Across All Generations Are Working Remotely Themselves
While many small business owners admit to being hesitant when it comes to allowing employees to work remotely, many are already doing so themselves. In fact, 65% of small business owners are working remotely themselves.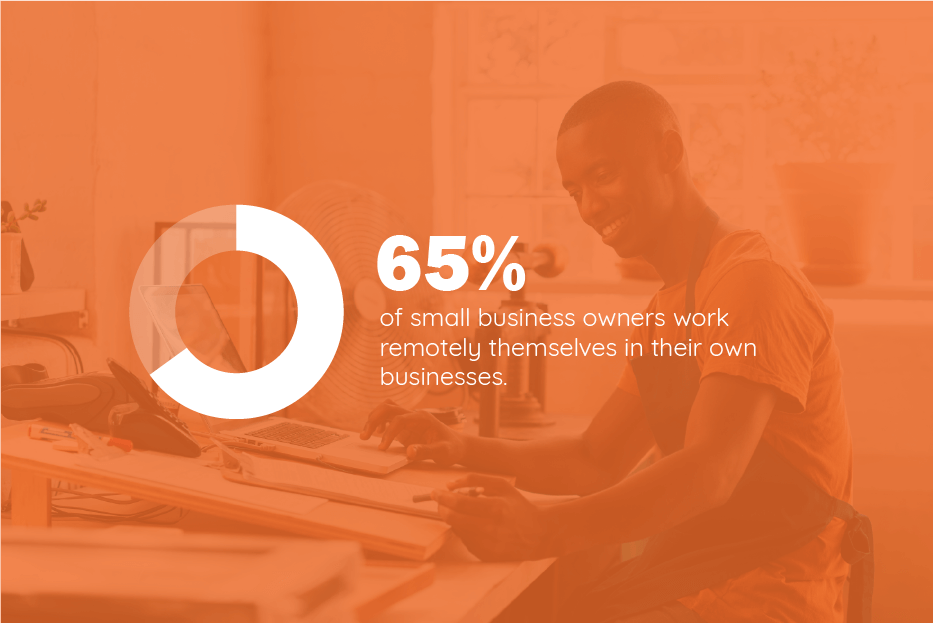 This practice is even more prominent amongst younger business owners, particularly when compared to older generations. In the last 12 months, 86% of small business owners ages 18-34 reported working remotely in their own business compared to just 54% of small business owners who are 65 are older.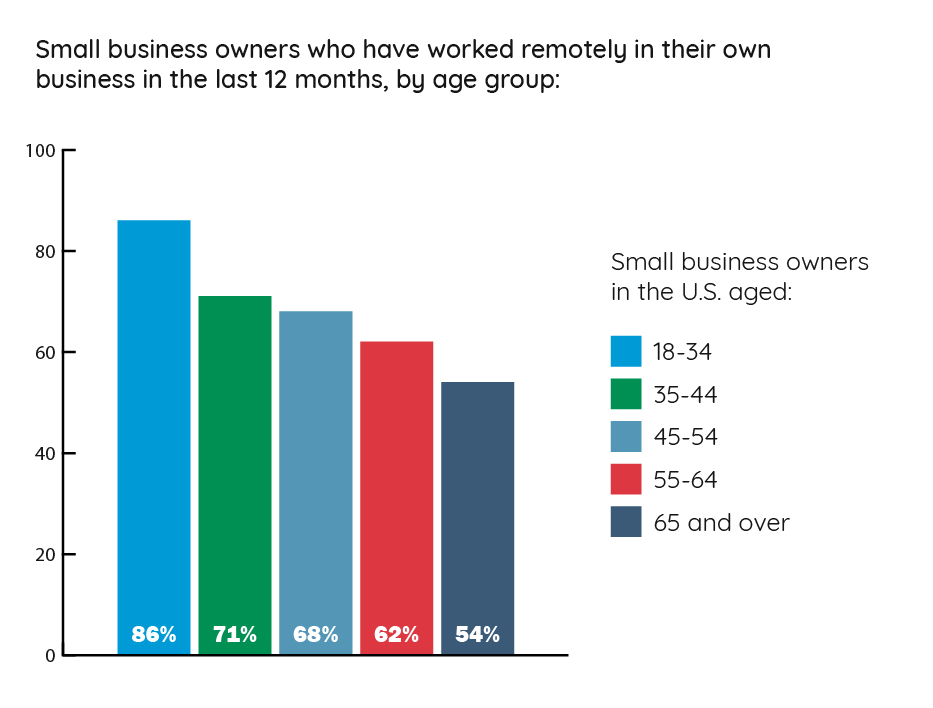 Remote Work in the U.S. Varies by Region
Adoption of remote working practices are not consistent across the United States, with small businesses in the Midwest the least likely to have remote jobs. Those based in the Southeast and Northeast were the most likely to work remote.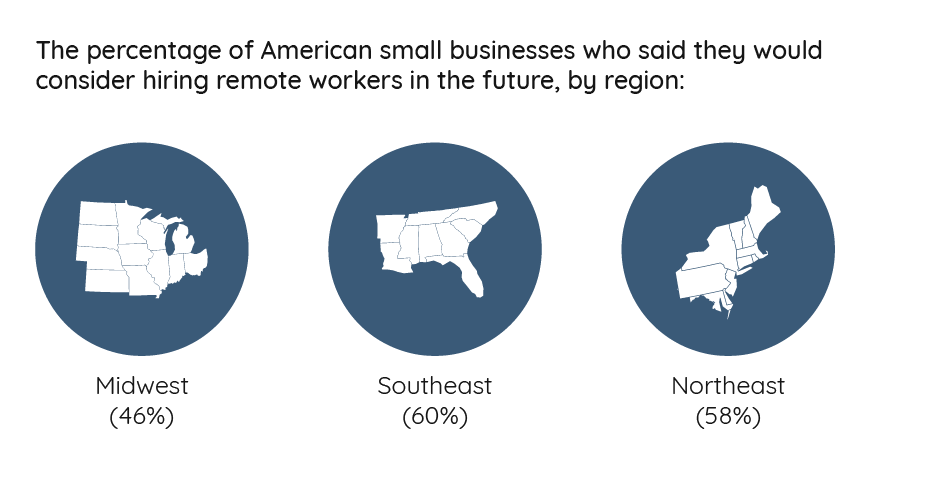 Should You Let Your Employees Work Remote?
When deciding whether to allow employees to work remotely full time, consider their job duties and their ability to work effectively and securely from home. Every employee has a different situation, so consider:
Does the team member have the equipment and technology at home to work efficiently and effectively outside of the physical business facility?
Does the employee work with highly sensitive business data? (If so, do you have the cybersecurity practices and solutions in place to safeguard that data when accessed from the remote employee's home?)
Does the employee provide customer service or customer support or in some sort of client-facing role? Even if they do, they may be able to do at least some of their job remotely with the right technologies in place—but they also may need to be on site much of the time to serve customers.
Does allowing for remote employees have public health benefits?
If you do allow for virtual employees, you will need to consider how to manage them most effectively and deal with some of the challenges that often arise. Here are some tips:
Deploy technologies that help such as video conferencing and instant messaging that keep your remote team members connected and collaborative throughout the workday.
Schedule regular check-in calls or meetings to ensure everyone stays on the same page.
Ask your remote employees how working from home is going for them—as you might discover technical or nontechnical issues you need to address.
Provide opportunities for remote social interaction, whether a virtual happy hour or trivia content. Even though you're not all working in the same location, team building and bonding is still important.
The Future of Remote Working
The pandemic accelerated the trend toward allowing people to work from home, but remote working isn't disappearing anytime soon. In fact, it's positioned to grow significantly.
Even as some workers return to their physical workplace post-pandemic, more companies are looking to expand the remote team model. Several major companies including Facebook have recently revealed plans to shift a large portion of their workforce to remote work for good. Since more employees now have the technology and equipment they need to work remotely, it's easier for companies to offer that ability going forward.
But there are other reasons remote working is the future. For example, surveys show that younger employees value flexibility in their scheduling and work arrangements. They are more likely to prioritize flexibility and the ability to work from home in their job search and stay with jobs that provide it. So companies currently hiring need to think about providing remote work opportunities from the perspective of today's job seekers and what they're looking for in a job.
In the future, there will be more fully remote companies—those with no physical workplace. As employers experience the many benefits of having a remote workforce and offering work from home jobs, more companies will inevitably decide to make the leap.
Next Steps: Want to learn more? Sign up for the Small Biz Ahead newsletter to receive a weekly roundup of the latest tools, trends, and resources.