Thinking of creating a punch card for your small business? We've all seen loyalty punch cards — the simple wallet-size cards that get stamped or punched every time you make a purchase at the coffee shop.
And since, a recent survey found that 43% of people are more likely to buy weekly with a loyalty program, you may feel you need to offer one just to stay competitive. Loyalty punch cards can be a great way to increase customer retention at your small business.
If you think a punch card loyalty program would be a good fit for your business, there are some pros and cons to be aware of before making a final decision. Here are a few points to consider if you're using a punch card for a small business loyalty program.
Three Pros for Loyalty Punch Cards
1. A Punch Card Program Is Simple to Launch
To launch a punch card program, you'll need small, wallet-sized cards for your customers. When a customer makes a qualifying purchase and presents their punch card at the point of sale, they get their card stamped or "punched" as evidence of the purchase. The customer earns a free item or a discount after a certain amount of punches. This system is an easy way to build customer loyalty at a low cost.
As a business, there are three other decisions to make: what action earns a punch; how many punches it takes; and what the reward for punches is. Loyalty punch cards are easiest for businesses with limited item selections, such as coffee shops or pet food stores. For example, a coffee shop could offer a free coffee for every five punches on a card, representing five previously purchased coffees.
2. A Loyalty Punch Card Program Is Cheap to Produce
Producing a punch card is inexpensive. Card formats don't have to be fancy. A business can print out punch cards on either plain white paper or card stock. A loyalty punch card should include a business's logo, name, and a grid of "punch" spots. So, your costs are just the time involved to design the card, the paper, the printer ink, and either a one-hole punch or stamp for your staff to use.
3. A Punch Card Program Is Easy to Learn
Unlike more complicated digital rewards programs, loyalty punch cards are easy to teach to your staff. They need to know which purchases earn a punch, how many punches a card should include to get the free item or discount, and what the item or discount is. That's it. Simplicity is one of the best characteristics of this rewards system.
Three Loyalty Punch Card Cons
1. A Punch Card Program Is Easy to Counterfeit
All the punch card simplicity comes with a price. Just as it's easy to launch, produce, and train staff on loyalty punch cards, it's also easy to create counterfeit punch cards. So, you could end up giving away free products. For some businesses, business punch cards are just the price of building customer loyalty.
2. A Punch Card Program Is Easy to Cheat
Some customers will cheat. It's easy for customers to punch an extra hole or two in their punch card so they'll get their free item sooner rather than later. The good news is that if your customer decides to cheat, they clearly love your product. The bad news is that your business may end up giving away too much free product.
There are ways to make it harder for customers to cheat. Businesses may want to consider getting a custom-made stamp or punch, which will make the mark more difficult to duplicate. Another way is to have customers put their initials next to the punch, which adds an extra layer of complexity.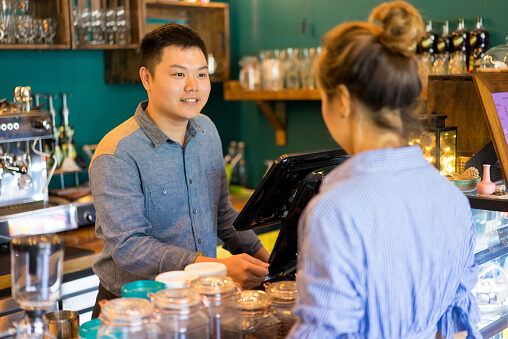 3. A Business Punch Card Program Is Difficult to Measure
Part of the appeal of technology-based loyalty programs includes their ability to collect useful customer data. Collecting phone numbers, customer data, and buying habits of customers can help you fine-tune your marketing or product design. You could even introduce new services or products based on the data collected. You gain loyal customers plus access to valuable data. But business punch card data is not easily trackable, so all you get is a repeat customer. However, keep in mind that storing sensitive customer data can be risky.
Learn How to Keep Your Customers Coming Back for More
Maybe business punch cards aren't the right long-term loyalty strategy for your small business. The good news? There are many other options.
If you're determined to increase your sales by building loyalty with your existing customers, get your free, downloadable eBook, below:
You'll find actionable, easy-to-follow advice and useful tips on topics such as:
How to use the Reciprocity Principle to boost your sales
How to determine the value of various customer types to help you identity where to invest your loyalty marketing budget
How to generate "social proof" that drives customer interest through the roof
To continue to grow your business, you want to engage your repeat customers.
Next Steps: Are you looking to keep up with the latest research and trends in talent management? We've got you covered with the weekly Small Biz Ahead Newsletter. Sign up today and start receiving the weekly newsletter chock full of the latest tools and resources to help you run a successful business.