Working from Home vs. Office: Who Gets More Done?
Telecommuting, or working from home, is becoming a popular trend in the workforce. In fact, it's estimated that nearly 40% of full-time employees will be remote workers in the next 10 years.
In the last 13 years, the number of employees working from home at least half of the week increased by 115% (3.9 million employees in 2018, compared to 1.8 million in 2005).
So, should you let your employees work remotely? It depends.
A Closer Look at Working from Home vs Office
The work from home (WFH) trend can be scary for employers: Some believe remote work hinders collaboration by interfering with those flashes of insight and innovation that occur spontaneously in unexpected meetings around the water cooler or in the hallway.
Meanwhile, proponents of working from home argue that it decreases real-estate costs, attracts better talent, attributes to a better work-life balance, and leads to happier, more productive employees.
A One-Size-Fits-All Approach to Working From Home is the Wrong Approach
But if there's one thing workplace experts have discovered from the multitude of studies that compare remote workers to in-office workers in attempts to measure which cohort is more productive, it's that a one-size-fits-all approach to work from home is the wrong approach.
Every business is unique. The day-to-day operations and employee responsibilities could greatly differ from business to business. If a telecommuting program is working for one company, that doesn't necessarily mean the same one will work for your business.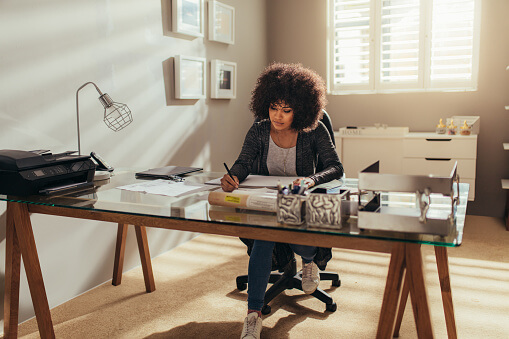 Running a business with work from home employees? Find out how to insure your business with our Home-Based Business Insurance Guide.
"When managers sit down to design a telecommuting policy, they should consider the benefits of telecommuting on a case by case basis," says Kate Lister, president of Global Workplace Analytics, a research firm and consultancy that specializes in innovative workplace practices.
"In each particular case, the benefits of telecommuting depend almost entirely on the kind of work being performed and the culture of the team."
For instance, an employee's home office may be the best venue for tasks that have well-defined metrics for success and require long stretches of concentration. On the other hand, face-to-face communication in the same physical space tends to be most valuable when tasks are collaborative by nature and require complex information-sharing or exploration, such as when a new project is being launched.
Productivity and Collaboration When Working from Home
Two seemingly contradictory studies illustrate the idea that different kinds of work call for different levels of workplace flexibility.
One study, conducted by two Stanford graduate students in 2013, tracked employee productivity over a nine-month period at a Chinese call center, where half the workers were allowed to telecommute and the rest remained in the office. The study found that the employees working from home completed 13.5% more calls than the staff in the office did.
Type of Job Affects Whether Work From Home is a Plus
"The more robotic the work, the greater the benefits [of telecommuting]," the study's authors concluded. The other study analyzed some 35,000 academic papers, work that is anything but "robotic." Tellingly, the study found that the best, most widely cited papers came from coauthors sitting less than 10 meters apart, suggesting that proximity often stimulates innovation.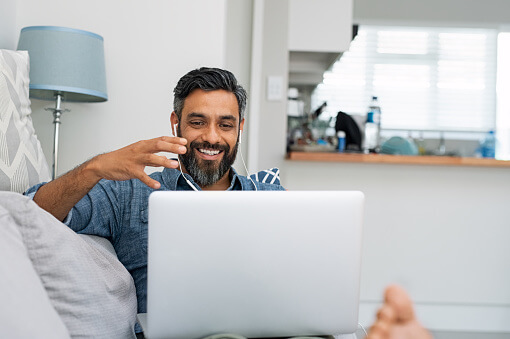 The Team Factors in When Working From Home vs Office
Lister notes that when determining the pros and cons of working from home vs. office is that the culture of a team is as important as the work itself, whether you are a virtual assistant working off-hours or crave a working environment that nurtures autonomy.
"If a team doesn't know each other that well, it is far better to work face to face," she says. In-person interaction "gives people the time to build social connections that make it easier to collaborate remotely and create that level of trust to be effective when they're not in the same room."
Working from Home Can Lead to Cost-Savings and Productivity Gains
A 2015 survey conducted by CoSo Cloud found remote worker programs showed cost-savings and productivity gains. Of the 39% of employees that worked from home at least a few times a month, 77% reported greater productivity while working offsite. The survey found employees that worked from home accomplished more in less time or did more work in the same amount of time.
Working from Home Depends on Your Business and Your Team
Whether you decide to create a work from home program depends on your business and your team members. Working from home gives your employees flexibility and can increase their productivity. Having a program that allows employees to effectively work remotely can also be an attractive benefit to prospective employees. If you're interested in putting a telecommuting policy in place at your business, make sure your employees know what is expected.
Find out how to insure your business with our Home-Based Business Insurance Guide.
Next Steps: Are you looking to manage your employees more effectively but don't have time to keep up with the latest research and trends in talent management? We've got you covered with the weekly Small Biz Ahead Newsletter. Sign up today and start receiving the weekly newsletter chock full of the latest tools and resources to help you run a successful business.